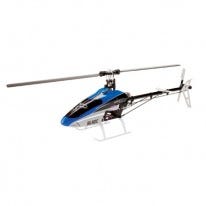 As any RC pilot can attest, flying model helicopters is a thrilling experience and Modelflight is proud to provide pilots with the highest quality helicopters available. Whether you are competitive pilot or you simply enjoy the excitement of 3D aerobatics, chances are we have an RC helicopter that meets your requirements. In this blog post, we will be doing a comparison and review of a few of our key model helicopters, from our three primary brands: Blade, TSA and JR.
Blade Helicopters
Two Blade model helicopters we wanted to focus on are the 450 X and the 500 X. Both these helicopters come with flybarless systems and brushless motors, but there are several advanced components in the 500 X that differentiate it. We will compare each model helicopter in turn.
The Blade 450 X is a 450-size helicopter and comes with a Spektrum AR7200BX 7-channel DSMX receiver with built-in BeastX flybarless technology. It is powered by an E-Flite 440H 4200Kv brushless motor and 35A S-BEC speed control. With its 325mm carbon fibre main blades, you will experience sharp performance with this model helicopter. The 450 X comes in RTF and BNF versions. Check out our Blade 450 X review video below:
The Blade 500 X ranks among their best model helicopters. Similar to the 450 X but in a 500-size, it features a Spektrum AR7200BX receiver with integrated BeastX flybarless technology. What sets it apart is the inclusion of an E-Flite 520H 1320Kv brushless motor and a 70A S-BEC speed control. In this RTF RC helicopter, you will also receive an E-Flite 6S 22.2V 2900mAh 30C LiPo battery. All these features combined give the 500 X extraordinary performance capability.
TSA Model Helicopters
TSA Model are well known for their high quality RC helicopters that serve as a great entry point for pilots who are looking to step up to a larger model. In this section, we will review a couple of new TSA helicopters, the Infusion 600E Pro and compare it with the Infusion 700N Platinum. Both these helicopters contain TSA's finely-engineered components, but there are a few key differences that will be discussed in the upcoming comparison.
To begin with, the Infusion 600E Pro is a new addition to TSA's line-up. This electric, 600-size model helicopter features polymer-impregnated metal plastic in key areas; giving it a lighter weight compared to TSA's Platinum range of helicopters. Designed for electric motors, the Infusion 600E kit gives you great leeway to customise the helicopter to your specifications.
The 700N Platinum is another feature-rich model helicopter from TSA and the largest of the helicopters we will be reviewing here. The 700N is a 700-size helicopter with nitro power, and it uses TSA's range of Platinum components. This includes an elevator control mechanism that has been designed so that it eliminates the need for an anti-rotation guide, giving you a very precise and smooth operation system. This RC helicopter comes in a kit form and can accommodate a 90-120 class nitro engine. TSA also have a second version of the 700N available with a Trajectory flybarless system.
JR Helicopters
In terms of JR's offerings, we will be reviewing the Vibe 50 NEX and the Forza 450. Both model helicopters offer the first-rate performance that JR is renowned for, but there are a few differences in components used, the size of the helicopters and the range of combo packages available. We will compare both models in turn, beginning with the Vibe 50 NEX.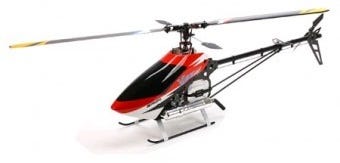 The JR Vibe 50 NEX is a high performance, 500-size nitro RC helicopter.  At this centre of this model is a dual-stacked carbon frame, which gives you the rigid structure you need to perform sharp 3D aerobatics. Modelflight also stocks a separate 50 NEX package which comes with a flybarless unit included (JRH98045). Irrespective of your choice, you will find that the Vibe 50 NEX offers peak performance time and time again.
The final helicopter we wanted to review is the JR Forza 450. This is the first 450-size model helicopter from JR and (true to form) they have created a serious performer. The electric-powered Forza has a flybarless, lightweight and rigid structure with standard main blades of 325mm in length, but this RC helicopter can accommodate blades up to 350mm long. It has a 6mm main shaft which is strong and rigid, with integrated servo mounts in the main shaft bearing blocks. Similar to the Vibe 50, Modelflight offers a range of Forza 450 packages to suit your needs. The first combo comes with a flybarless unit and electronics. The second package offers the electronics without the flybarless unit. The third combo comes with a motor and ESC and the final package comes without electronics.  If you want to see more of this impressive model helicopter, check out the action video below:
To summarise, we have compiled a comparison table of all the model helicopters discussed to compare their key features. In the instances where there are multiple versions of a particular helicopter, the one referred to for the purposes of this table will be identified.
Blade

450 X

Blade

500 X

TSA 600E Pro

TSA 700N Platinum

JR Vibe

50 NEX

JR

Forza 450

Version

RTF

N/A

N/A

w/Trajectory

w/Flybarless

w/FBL and Electronics

Power Type

Electric

Electric

Electric

Nitro

Nitro

Electric

Completion Level

RTF

BNF

Kit

Kit

Kit

Kit

Size

450

500

600

700

500

450

Price ($)

599.99

969.99

459.99

849.99

629.99

599.99

Flybarless

Yes

Yes

No

Yes

Yes

Yes

Main Rotor Diameter

721mm

970mm

1235mm

1580mm

1361mm

662mm

Tail Rotor  Diameter

155mm

198mm

252mm

262mm

268mm

155.5mm

Weight

717g

1.76 kg

4.72kg

4.39kg

3.5kg

820g
We hope this helicopter review gives you a good overview of the range of model helicopters available at Modelflight. If you would like more information about any of the models discussed, please visit modelflight.com.au/helicopters or you can contact Modelflight directly. Stay tuned to this blog for more exciting model helicopter news.