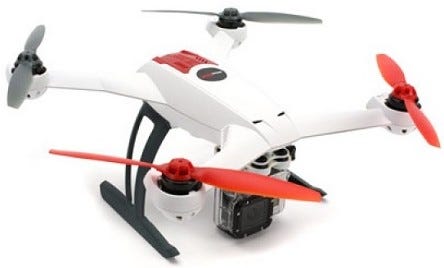 Today Blade Helicopters announced the release of an exciting new product - the 350 QX BNF quadcopter. This RC quadcopter is highly capable, featuring dynamic flight modes and the ability to capture video with a GoPro camera.  The 350 QX comes with a compatible anti-vibration camera mount attached, making it the best choice for aerial video and photography. All you have to do is connect your GoPro camera and take to the skies.
What makes the 350 QX a standout is the inclusion of SAFE Technology. This brand new technology, first seen in the Blade Nano QX and the E-Flite Apprentice S, gives this RC quadcopter incredible stability; allowing it to be flown by beginners and pros alike. This SAFE Technology also gives you three different flight modes, which can be easily accessed with the flick of a switch. These modes are:
Smart Mode
Stability Mode
Agility Mode
Let's look at each mode in turn.  Firstly, the Smart Mode is a great choice if you do not have much experience with RC models.  In this mode, you can easily fly the 350 QX through stick input, regardless of the model's position. For example, if you push the control stick forward, you will always push the 350 QX away from you, even if the quadcopter is pointing in your direction. If you are a cameraman or photographer who just wants to control this GoPro quadcopter with minimal fuss, Smart Mode is a great choice. Secondly, Stability Mode gives the Blade 350 QX the ability to automatically level itself.  This prevents the Blade quadcopter from shifting to an unfavourable attitude.  Finally, Agility Mode unlocks the QX's advanced features. This gives this GoPro-ready quadcopter more manoeuvrability, allowing you to perform flip rolls and loops in the air. Even with this agility, you will find the Blade 350 QX to be a very smooth model.
In addition to these three flight modes, the Blade 350 QX's SAFE Technology allows the quadcopter to hold a GPS position and altitude according to your commands. This is thanks to the inbuilt GPS and pressure sensors on board; another advanced feature from Blade. Because of these sensors, the 350 QX will automatically return to a neutral and stable "home" position if you lose your radio frequency or orientation.  This GoPro-ready quadcopter is powered by an 1100kV brushless motor, allowing you to quickly move around the air with ease.  It is important to note that this is a Bind-N-Fly model, so you will need to supply your own compatible transmitter to fly the 350 QX. As a suggestion, the Spektrum DX6i will give you all the functionality you require and is available from Modelflight.
As part of our commitment to supporting all quadcopters and other RC models we sell, we aim to provide you with all the spare parts you need. If you are looking for Blade 350 QX spare parts, please visit the product page or search for parts using our spare parts finder tool. It couldn't be easier to find what you are looking for!
If you are an aerial photographer or camera operator (or always dreamed of becoming one), the 350 QX is the model you have been waiting for. The combination of its GoPro camera functionality and SAFE Technology makes it one of the most exciting releases from Blade in recent memory.  Do not miss your chance to secure this exciting RC quadcopter. Visit our website today to find out more and order the 350 QX – delivered FREE in Australia.