Blade Trio 360 CFX Helicopter, No Longer Available
An extraordinary grab-n-go RC helicopter from Blade, the Trio 360 CFX offers incredible performance.
Comes fully assembled
Servo geometry comes optimised
3-blade head – for greater response and precision
Designed for high-voltage 6S Li-Po battery
Hardened main shaft with triple ball-bearing support
Head and frame members made from CNC aluminium
Uses a Castle Creations Talon 35 ESC
Side frames made from single-stack carbon fibre
Spektrum digital high-speed metal gear servos
Spektrum AR7210BX flybarless control system
Powered by high-torque, brushless outrunner motor
Strong belt-driven tail with aluminium tail boom
Tail boom supports made from carbon fibre
Airbrushed fiberglass canopy with high-gloss finish
The Ultimate Grab-N-Go RC Helicopter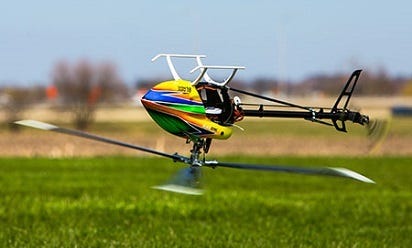 The Trio 360 CFX from Blade strikes a whole new balance between performance and convenience. The three carbon fibre blades provide greater response and precision in flight.
Optimised Servo Geometry
This RC helicopter is designed to perform jaw-dropping 3D maneuvers, thanks to its optimised servo geometry. This geometry essentially eliminates mechanical inefficiency by keeping the swashplate links near vertical throughout the range of motion. You will easily notice the great cyclic and collective response that results from this innovation. Additionally, Blade has included high-speed, metal gear Spektrum servos for the cyclic and tail control.
Designed for Precision
The precision of this helicopter is outstanding, given the included Spektrum SPMAR7210BX flybarless control system. This lightweight unit combines a 7-channel DSMX receiver with a BeastX 3-axis MEMS stabilisation system.
Can Handle Power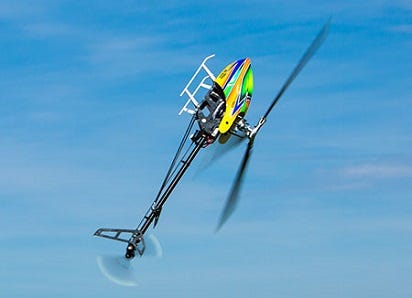 The Trio 360 CFX can accommodate a 6S LiPo battery, giving you the high-voltage power you need to perform at your peak. This matched system also draws less current than other 3S systems, leaving you with plenty of power to spare.
High Performance ESC
This RC helicopter comes equipped with a Castle Creations Talon 35 ESC. This speed control system is a great performer and has the motor timing and optimal governor settings pre-programmed. This is coupled with a high-torque brushless outrunner motor that offers 1800Kv output.
Strong Frame
The Trio 360 CFX comes with a strong CNC aluminium frame for extra durability and precision. This is covered by a vivid fibreglass canopy with a high-gloss finish. Blade has also ensured that the parts count is low, allowing for easy maintenance.
Please note that this RC helicopter comes as a BNF Basic, so there are several items you will need to complete this DSMX-controlled model. Please refer to the "What You Need" section below for more details. If you are looking for the ultimate grab-and-go machine, the Blade Trio 360 CFX is for you. Order yours now.
Radio. We recommend the Spektrum DXE (SPMR10001) or Spektrum DX6 (SPM6750)
Battery. We recommend the Thunder Power 1300mAh 6S Battery (TPB1300-6SM70)
Charger We recommend the Ultra Power 680AC (UP680AC) or Ultra Power 100AC Charger (UP100ACDUO)
Main Rotor Diameter

31.10 in (790mm)

Tail Rotor Diameter

6.89 in (175mm)

Gross Weight

30oz (875g)

Length

26.38 in (670mm)

Motor Size

1800Kv Brushless Outrunner

Kit/ARF/RTF

BNF Basic

Control System

Collective Pitch (CCPM) Flybarless

Rotor Blade Length

14.17 in (360mm)

Experience Level

Advanced

Recommended Environment

Outdoor
All product manuals are provided by the manufacturer, If you don't find the manual or information you are looking for, contact our experts for help.
Looking for spare parts or upgrades?