Blade Inductrix HD Camera Drone, RTF, No Longer Available
The Blade Inductrix FPV HD micro-drone is ready to fly and packed full of features that enable a simple and fun high definition FPV flight. Sync up to your smart device and you can record your flights in 1080p clarity, see your flight path in real time and share your videos with friends.
Ready-to-fly, fully assembled light weight drone
Tactile camera controls built into the flight transmitter
Headset adapter for smartphone
Onboard recording at 30fps in 1080p
Rotor housings for increased durability and damage resistance
Downlink video feed at 720p
Additional memory storage with SD card slot
Save files to smartphone using wireless transfer
Equipped with SAFE technology
Electric power system with quiet ducted fans
Superb LED configuration
USB charger with 500mAh single cell LiPo
FPV in high definition
On-screen display fully adjustable
Articulating camera mount
Support from Apple and Android
Blade Inductrix HD FPV Drone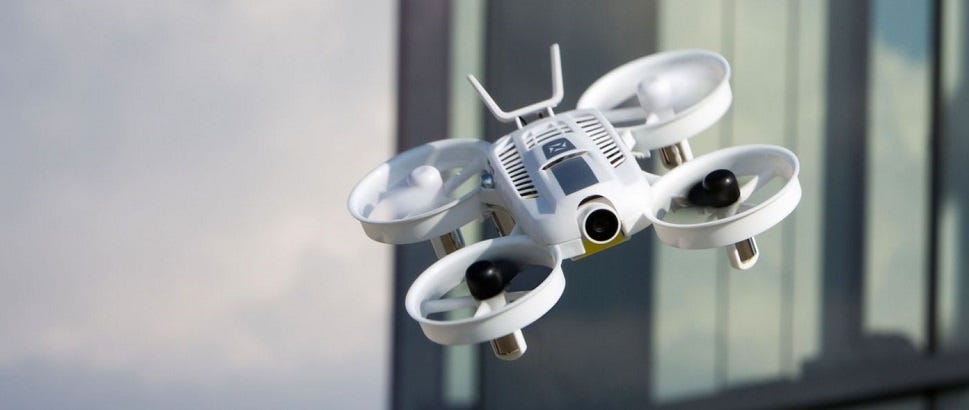 The Blade Inductrix FPV HD micro drone allows anyone with hobby experience or not to capture aerial photography while enjoying FPV flying.
The high definition FPV camera on the Inductrix RC drone has a low latency and uses an amplified WiFi signal to your Apple or Android device which takes the 720p live images and displays anything your imagination can capture. The simplicity of the included headset adapter means all you have to do is slot in your smartphone and it becomes your FPV goggles. You can adjust the on-screen display settings to tailor the images/vision to your choice.  
The SD memory card on board your Inductrix™ FPV will enable your camera to record HD what you're seeing in superb 30fps 1080p video. The camera angle can be set depending on your intended flight characteristics with the articulating mount adjusting to 'up' for fast flying, or, 'down' to capture birds-eye vision from directly above. The hand-held transmitter for the Inductrix is designed with conveniently placed tactile camera control buttons that enables you to capture vision or video without having to take your eyes off the FPV screen/smartphone. Uploading your captured images to social media has been made super easy as your footage will wirelessly download in HD straight to your smartphone.

Perfect for any skill level
The Inductrix RC drone is a proven platform enjoyed by new and experienced pilots alike. The four power-packed brushless motors are mounted inside ducted fan style rotor housings to help the robust airframe to keep on keeping on if you happen to crash it. If you're just starting out you'll have the benefit of SAFE technology that is built into the Inductrix which works behind the scenes to correct any drastic direction changes and provides built-in stability.
Other features to assist the beginner RC drone pilot is the ability of the Inductrix to re-establish a level flight altitude on its own and return to an upright position if you happen to land upside-down after a crash. With one push of a button, you'll flip back over and be ready to take off again!
The Blade Inductrix FPV HD is an RTF RC drone meaning it comes out of the box completely assembled and includes a battery, charger, headset adapter and flight transmitter. You just need to provide the smartphone and you're up and away!
Nothing! Everything you need to begin having fun with your Inductrix FPV is included.
Type

Ultra Micro FPV Drone

Gross Weight

"2.3 oz (65g)

Length

5.3 in (135mm)

Motor

Brushless

Kit/ARF/RTF

RTF

Experience Level

Beginner

Is Assembly Required

No
All product manuals are provided by the manufacturer, If you don't find the manual or information you are looking for, contact our experts for help.
Looking for spare parts or upgrades?