Blade Inductrix Ducted Fan Drone, RTF Mode 2
Equipped with electric ducted fans and SAFE Technology, the Blade Inductrix is the ideal drone for beginners.
A great choice for beginners
EDF power normally seen on RC jets
Equipped with SAFE Technology
Minimal noise
Very durable structure
LED lights for visibility
Ready-to-fly with everything included
Part Drone, Part RC Jet
It's the ultra-micro drone reimagined. The Blade Inductrix is a quadcopter unlike any you have seen before; coming with electric ducted fans (EDF), instead of the traditional propeller thrust systems. The inclusion of these EDFs (normally seen in RC jets) takes drone flying to a whole new level and, when coupled with innovative technology, the Inductrix really is a stand out. Here are some of the exciting features:
SAFE Technology Included
SAFE Technology allows you to fly the Inductrix with little effort, even if this is your first time flying a drone. SAFE combines small pitch and roll angle limits with electronic self-levelling to help you stay in control at all times.
Minimal Noise
The four electric ducted fans on the Inductrix are carefully tuned to give you smooth performance. What's more, these fans produce less noise compared to normal drones that use propellers for thrust.
Excellent Durability
Because the electric fans are stored in cylindrical rotor housing, air is ducted through the high-speed rotors to give you a very durable structure. It doesn't matter if the Inductrix bumps into things during flight; the motors will hardly be damaged.
Highly Visible
Blade has given the Inductrix bright Led lights that are designed to make orientation easy. The rotor housings are clear, ensuring that your view is not obstructed. This also gives the airframe a stunning glow in the air!
LiPo Flight Battery Included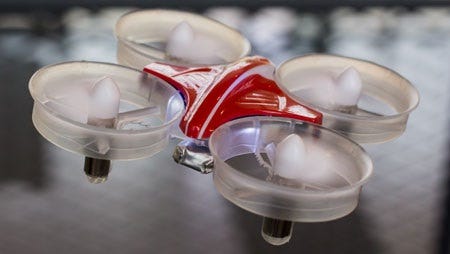 This quadcopter comes with a 150mAh 1S battery from E-Flite. This 3.7V 25C LiPo can give you flight times up to five minutes and can be easily charged with the included USB charger.
Reliable Spektrum Technology
This drone comes with a Blade MLP radio that uses Spektrum DSMX 2.4GHz technology. Four AA batteries are also included for this transmitter. The great thing about DSMX technology is that you can use other Spektrum transmitters with this drone (in addition to a wide range of Bind-N-Fly models).
The Inductrix comes fully-assembled with red and blue bodies available for use. This lightweight drone can be flown just about anywhere, by anyone! If you are looking for your first drone, look no further. The Blade Inductrix is everything you could ever hope for. Order yours now.
Nothing! Everything you need is included in the box.
Type

Multi-Rotor

Gross Weight

0.67 oz (19g)

Length

3.3 in (83mm)

Kit/ARF/RTF

RTF

Is Assembly Required

No
All product manuals are provided by the manufacturer, If you don't find the manual or information you are looking for, contact our experts for help.
Looking for spare parts or upgrades?