Blade Fusion 360 RC Helicopter, BNF Basic, No Longer Available
The all-new Fusion 360 from Blade is the next level of performance in the Fusion Heli range. With the super popular 360 size, the team at Blade Heli's have added high-end hardware and a new flybarless controller to improve the performance even further!
High Visibility Fin and Trim Scheme
Reliable and durable Spektrum 3055 and 3065 Servos
Optimized Servo Geometry for increased performance
Optimized and Lightened Main Frame
Forward Programming ability
CNC Main Blade Grips
East and convenient, BNF Basic Completion level
Fitted high power 1800Kv Brushless Outrunner Motor
Quality Spektrum™ 6250 HX Flybarless Controller With Two Remote Receiver Ports
Grunty 6S Power System Provides outstanding 3D Performance
Hobbywing 60A Platinum ESC With New IC3 Connector
Pre-installed and painted Fibreglass Canopy and Tail Fin
High quality carbon Fibre Landing Gear
High quality Black Anodized Hardware
Large Tail Boom and New CNC Tail Case
Blade Fusion 360 RC Heli
A new addition into the Fusion line of helicopters the Blade Fusion 360 redefines BNF performance in a 300 sized helicopter. With the ever-popular 360 size Blade has added serious performance and high-end hardware to make this an exceptional 3D model, coupled with the all new power system included in the Fusion 360 BNF.
The all-new carbon fibre and aluminium design takes frame rigidity to the next level, giving the pilot a fantastic flight experience and rock-solid 3D performance. The new carbon fibre main rotors include an all-new aerodynamic design to improve efficiency and power. An all-new oversized boom removes the need for boom supports and has an all-new CNC aluminium tail case for better vibration damping.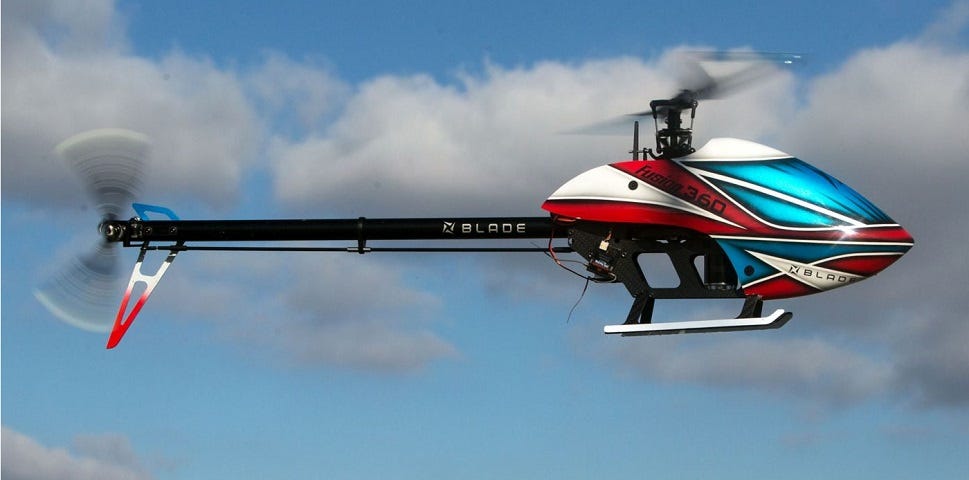 Cutting edge Spektrum technology is standard fare throughout this amazing 3D helicopter, to provide precise control performance the Spektrum 3055 & 3065 servos have been installed and the ground-breaking 6250 HX flybarless system assist's in the overall experience. The all-new flybarless controller has some incredible features, things like advanced adaptive flight control algorithms, forward programming, 6-axis M.E.M.S. inertial sensor, low-latency high-speed operation, two remote receiver ports for diversity, and a vibration rejecting aluminium lower case.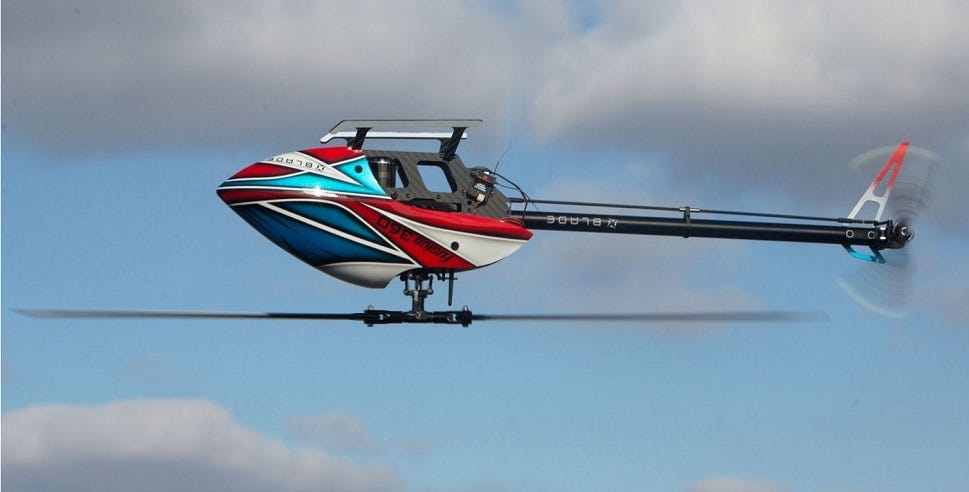 Striking 3D performance
The Blade Fusion 360 features a professionally painted fibreglass canopy and matching tail fin that is both beautiful and purposeful. The eye-catching colour scheme is easy to see when roaring through the sky and it sure to be visible in every possible attitude and manouvere.
Factory fitted and pre-programmed, the Hobby wing 60A platinum ESC is ready to take the 6S power straight from the box. Combined with the 2221-1800kv brushless motor this RC helicopter has the phenomenal head speed for a powerful punch during manoeuvres unlike anything else in this size category.
Full-range 6+ channel Spektrum™ 2.4GHz DSM2®/DSMX® Transmitter
Gen2 or iX12 required for Telemetry and Forward Programming Features
22.2V 6S 1300-1800mAh 30C LiPo Flight Battery
Suitable LiPo Balancing Charger
Approximate Assembly Time:

No assembly required

Approximate Flight Time:

4 minutes

Battery:

6S 1300 - 1800mAh required

Canopy/Body Material:

Fiberglass

Channels:

Full range 6-channel DSM2/ DSMX transmitter required

Completion Level:

Bind-N-Fly Basic

Flying Weight:

32.3oz (915g)

Height:

7.5" (190mm)

Length:

27" (685mm)

Main Blade Material:

Carbon

Main Motor Type:

Brushless Outrunner

Main Rotor Blade Length:

13.8" (350mm), Range: 13.8" - 14.2" (360mm)

Main Rotor Diameter:

31.3" (796mm)

Main Rotor Head Type:

Collective pitch (CCPM) flybarless

Pinion Size:

11 tooth

Pinion Size (Range):

11 to 12 tooth

Servos:

Swash Servos, Spektrum 3055 MG, Tail Servo, Spektrum 3065 MG

Skill Level:

Level 3

Swashplate Type:

120 degree CCPM

Tail Drive:

Belt Drive

Tail Ratio:

4.59:1

Tail Rotor Diameter:

6.9" (175mm)

Width:

3.5" (90mm)
All product manuals are provided by the manufacturer, If you don't find the manual or information you are looking for, contact our experts for help.
Looking for spare parts or upgrades?