Blade 150 S RC Helicopter, BNF Basic, BLH5450
If you're looking to dial in your collective pitch Heli flying skills then the new Blade 150 S is the machine for you. The improvements to overall strength and performance make this heli a weapon to fly in the local park or even your backyard.
Looking for spare parts or upgrades?
Flight time of 5-6 minutes
Made from carbon fibre and aluminium which ensures durability
Durable, high-speed metal gear cyclic digital servos
Collective Pitch and innovative SAFE® technology allows an intermediate pilot to grow with the model when they're ready for aerobatics and 3D flying
Beginner, Intermediate and Advanced flight modes allow you to improve your collective pitch heli skills
Recover the heli to a level attitude with the flip of a switch
Brushless direct-drive tail motor delivers impressive heading hold in a simplistic design
Blade 150 S Heli
Even if the Blade 150 S is your first-ever collective pitch helicopter you will feel right at home behind the sticks. With progressive flight modes, self-levelling, panic recovery and an advanced flybarless system, the Blade 150 S is not only a high-performance aerobat but also a brilliant collective pitch trainer. The Panic Recovery system allows intermediate to advanced pilots to explore the world of 3D aerobatics without the fear of destroying the model. The super durable carbon and aluminium construction makes for a precise and robust helicopter that will impress any and all skill levels.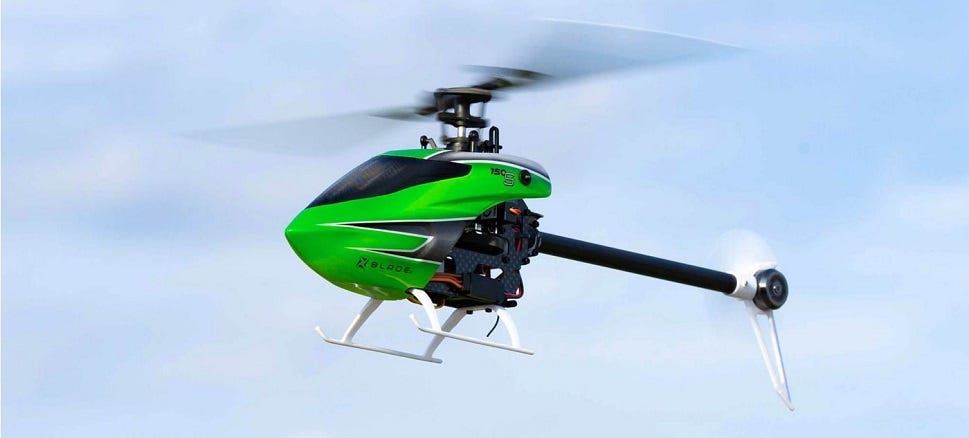 Ideal collective pitch trainer 
Helpful SAFE technology makes the Blade 150 S a perfect collective pitch trainer. Offering three flight mode options the SAFE system gives new pilots the ability to learn at their own speed. Beginner mode limits bank angles and provides self-levelling to assist the learning pilot while dampening altitude changes. Intermediate and Advanced modes are ideal for the pilot looking to expand their skills and learn more advanced manoeuvres on this collective pitched beast.
Panic recovery now operates quicker and more accurately than ever before on the new Blade 150 S. With the press of a button the 150 S self-rights no matter what orientation it was flying in and also irrespective of the flight mode, a great tool for the advanced pilots practising difficult aerobatics.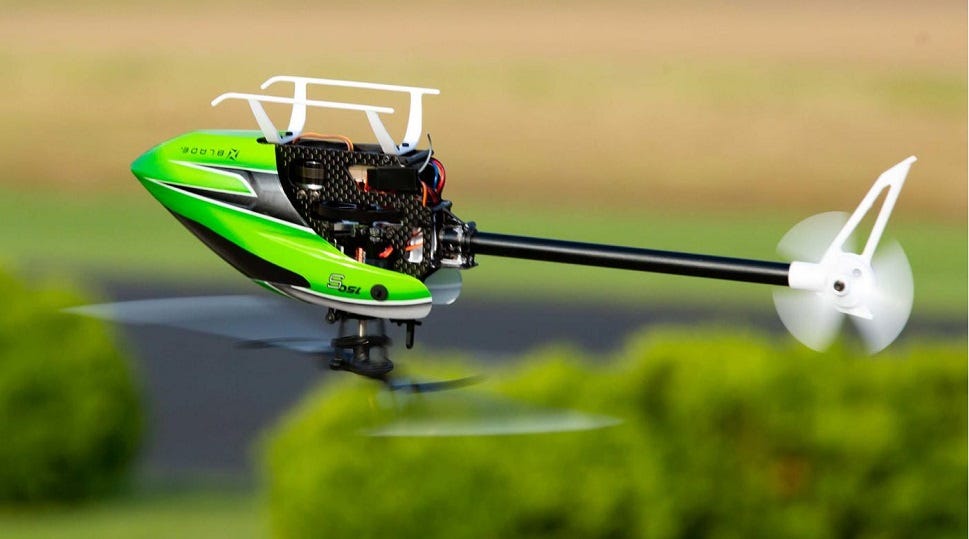 Durable RC heli
The Blade 150 S has an all-new carbon fibre and aluminium construction that takes rigidity of the frame to a whole new level for the most precise of flight experiences. The new reinforced tail boom mount eliminates the need to cross support braces and adds a cleaner look to the model whilst still remaining durable.
Spektrum™ AR6335A Flybarless Controller with AS3X Technology
Top of the line Spektrum technology is used throughout this beast of a helicopter, from the ultra-precise metal-geared micro Spektrum 2070 servo's to the pro tuned AS3X stabilized flybarless controller the overall performance is accurate and locked in! If you're using this exceptional helicopter with a compatible Spektrum radio (Firmware 2.0+ on Gen2 and iX12 transmitters) you have the ability to have control over the setting in the flybarless system. This includes gain settings, roll rates, cyclic trims and even more!
6+ Channel Spektrum™ DSMX/2 Transmitter

Gen2 or iX12 required for Telemetry and Forward Programming features

3S 11.1V 30C+ 400 – 500mAh LiPo Battery
Suitable LiPo Charger
Approximate Flight Time

5 Minutes

Battery

3S 400 - 500mAh (sold separately)

Canopy/Body Material

Plastic

Channels

Six

Completion Level

Bind-N-Fly Basic

Flying Weight

0-250g, 7.1oz (200g)

Height

5" (128mm)

Length

14.4" (365mm)

Main Blade Material

Plastic

Main Frame Material

Plastic

Main Motor Type

Brushless Outrunner

Main Rotor Blade Length

6.1" (155mm)

Main Rotor Diameter

14.2" (360mm)

Main Rotor Head Type

Collective Pitch CCPM Flybarless

Servos

Nanolite High-Speed MG

Skill Level

Level 2

Swashplate Type

CCPM 120deg

Tail Blade Material

Plastic

Tail Drive

Direct

Tail Motor Type

Brushless Outrunner

Tail Rotor Diameter

2.5" (64mm)

Type

Collective Pitch

Width

2.4" (62mm)
All product manuals are provided by the manufacturer, If you don't find the manual or information you are looking for, contact our experts for help.