Blade 120 S2 RC Helicopter, BNF, BLH1180
Conquer your fear of heli flying with the Blade 120 S2. Equipped with integrated flight assistance aboard the tried and tested 120 S platform which will get you into the swing of flying in no time!
Looking for spare parts or upgrades?
Fitted with SAFE technology to allow safer and easier flight
Fully built with no assembly required
Compatible Spektrum transmitter has integrated voltage telemetry
Crash prevention with panic recovery mode
Straightforward mechanics with a flybarless rotor
Heavy duty crash resistant construction
Fully installed coreless tail rotor and high-speed main motors
Installed linear long-throw cyclic sub micro servos
USB charger and 500mAh 1S 3.7V 25C E-flite LiPo flight battery included
Build your confidence with the Blade 120 S 2 RC Heli
Single rotor helis can be a little daunting if you've been using drones or coaxial machines but fear not. Blade have produced a barrier-breaking chopper to get you to that next level of flying with the Blade 120 S 2. The 120 S platform is a proven winner in the heli world with durable toughness that has established its great reputation. The Blade 120 S 2 is the next evolution and comes with integrated telemetry and improved flight characteristics. This puts it in the upper echelon of any of the fixed-pitch heli models currently on the market.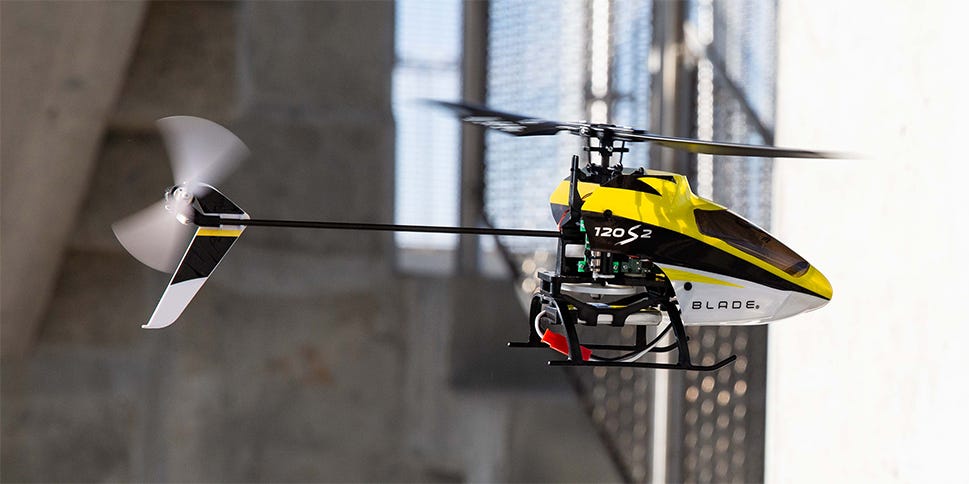 The Blade 120 S2 is a great jump-off point for beginner RC pilots and experienced chopper aficionados alike. On the one hand, you get a tough and durable easy flying RC heli with integrated telemetry, and, on the other hand, is challenging enough for the seasoned pro to enjoy pushing it to its limits. The mechanical simplicity of a fixed pitch, flybarless rotor allows you to enjoy the extra agility and speed with the luxury of a two-phase safety net. The first phase is SAFE Select which sets flight envelope parameters and gives you the flight stability you need to develop your confidence. The second phase is when you just lose it and a hard slam into the deck is inevitable – just hit the Panic Recovery button and your Blade 120 S2 will lock into a familiar level attitude through the use of SAFE technology.
The 4-in-1 control unit is factory installed and features main and tail motor ESC's, mixer and flybarless controller, and, a 2.4GHz Spektrum DSMX-compatible receiver. You can bind to your own compatible Spektrum transmitter or use the one provided in the RTF version and you can also take advantage of voltage telemetry. The Blade 120 S2 is bigger than a micro-class heli and is perfect for outdoor flight if there is little to no wind. This exciting RC helicopter is also small enough to enjoy flying in a range of indoor spaces and because it uses low-cost 1S LiPo batteries you can afford to keep it in the air for longer.
6+ Channel Spektrum DSM2 / DSMX Transmitter
Type

Helicopter

Completion Level

Bind-N-Fly

Main Rotor Head Type

Fixed Pitch Flybarless

Swashplate Type

90 degrees

Main Rotor Diameter

330mm

Main Rotor Blade Length

146mm

Main Blade Material

Plastic

Tail Rotor Diameter

70mm

Tail Blade Material

Plastic

Main Motor Type

Brushed

Battery

1S 3.7V 500mAh Lipo

Tail Drive

Direct Drive

Length

330mm

Height

108mm

Width

45mm

Main Frame Material

Plastic

Canopy/Body Material

Plastic

Flying Weight

106g

Approximate Flight Time

5 minutes

Number of Channels

5

Experience Level

Beginner

Recommended Environment

Indoor/Outdoor

Is Assembly Required

No
All product manuals are provided by the manufacturer, If you don't find the manual or information you are looking for, contact our experts for help.