What are the best Drones for Beginners?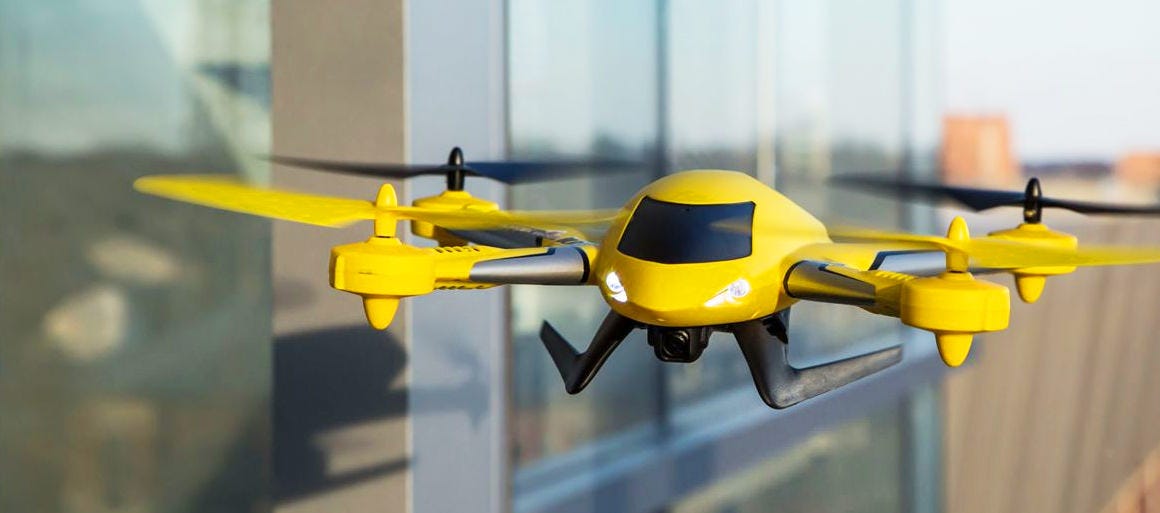 Ready to hit new heights? A drone will take you there. If you're looking for your first drone, you want to start small – with an entry-level quadcopter.
One of the hottest gadgets on the market today, drones are affordable, easy to fly, and loads of fun. They make it easy to get into radio controlled flying. Start small and work your way up.
1. Choose a lightweight drone to fly indoors
If you're new to drones, you're probably not game enough to fly outdoors yet. It's best to start with something light to fly, indoors. They generally bounce and flex more than the bigger, elite models. So, don't worry if you accidently fly into the bookshelf.
Should you go for a drone with a camera? Of course, this is one of the drone's strongest features, but it's also an added expense – plus, added weight. And if you want a camera, you're probably going to have to invest a little more but to learn to fly, go with a cheap and lightweight drone.
Look out for a drone with these features:
RTF (Ready To Fly)
Light weight
Propeller guards
Long flight time or ability to swap batteries.
You want an easy to fly drone, that'll go for as long as you want it to… because, let's be honest, you're going to find it hard to put it down. You'll have the energy of a kid playing in the playground.
Okay, let's get down to business – and discuss the best drones for beginners. There are two categories: Training drones and beginner racing drones.
2. Training Drones
Training drones are great to practice on before moving onto bigger drones. They're cheap, come with everything you need and are the perfect gift for kids.
Take a look at the Blade Nano QX, the Blade Pico, and the HobbyZone Faze.
With the Blade Nano, for example, anyone can fly it… and we mean anyone. Weighing just over half an ounce, the Nano is tiny enough to fly in spaces as small as an office cubicle.
Or the Pico – the great gift idea. This little pocket-rocket is lightweight and comes with LED lights, so you can fly at night. It's easy to charge, via a USB.
Costing less than $50, the HobbyZone Faze is a best seller, ultra small but ultra fun. You can fly, flip and have loads of fun. It's perfect for all ages, and all skill levels.
Want to move up to train yourself for filming?
Most bigger drones are expensive, but easy to fly. Because they do most of the work for you, you won't learn to fly properly. You'll most likely crash if you lose GPS lock, so it's best to start with something smaller, cheaper, and is flown manually. You don't need to worry about a camera while you're training.
Blade is the leader in entry-level drones. Some models to look at are the Blade Nano QX, the Blade Zeyrok, or the Blade Glimpse FPV video drone.
All cost less than $260, can be flown in the smallest of spaces, come with SAFE technology and require little or no assembly.

3. Beginner Racing Drones
And there are beginner racing drones. They're great for training yourself to race. Most racers are really hard to fly because they're quite fast. Start with something slower with a stabiliser. You need to learn to fly with speed and accuracy. Most of the drones we've mentioned have different modes, so you can learn to fly with and without stabilisers.
Something like the Blade Inductrix 200 FPV BNF. It's small, easy to operate, and boasts FPV flight camera capabilities. You'll get a birds-eye view without leaving the ground, with the FatShark headset or Helistar video monitor.
Try

before you buy, with a flight simulator
Still not sure whether you're ready for the real thing? You can learn to fly on a flight simulator first so, browse our wide range of simulators, here.
Phoenix's latest flight simulator is one of the best training devices to help new pilots understand the characteristics of flight. Its improved SAFE autopilot physics and modes are unbeatable.
And there's the flight simulator for Yuneec – the Q500 and Typhoon 4K. Practice your flying without risking injury or damage to expensive hardware. It works straight out of the box!
Getting excited to start flying? We sure are… for you.
Just remember, when looking for your first remote control drone, start small and light. Work your way up. All of the quadcopters mentioned come with everything you need. This makes it super easy for beginners to get started. Make sure you buy from a store that offers spare parts too, just in case you'd like to upgrade in the future.
Launch your flying career and get your first drone today!