Axial Yeti Rock Racer RTR, No Longer Available
The Yeti is a purpose designed, from the ground up, rock racing vehicle that features a durable solid rear axle and independent front suspension. It was designed to withstand the punishment of high-performance rock racing and the toughest environments.
Chassis: Plastic tub type with bolt-on 4 link mount for rear suspension
Drive: Four wheel, WB8 HD rear driveshaft
Motor: Brushless, 3150kV, 4-pole
ESC: Castle Creations Vanguard, waterproof, 3S LiPo compatible, can be programmed manually via the the Castle Link
Programming Card (not included)
Radio: Tactic TTX300 2.4GHz FHSS spread spectrum 3-channel pistol grip with steering rate, and steering and throttle end point adjustments
Shocks: Aluminum body, oil filled
Steering: Updated dual shear rack
Transmission: Single speed with brushless motor gearing (2nd gear fixed), adjustable motor mount, 2-speed optional gear set will be available in the future
Slipper Clutch: Dual design uses a pad on each side of spur gear for added surface area for more precise tuning and holding power
Front Suspension: Independent design allows better control direction of travel ant high speeds when one side is adjusting to road obstructions
Rear Suspension: AR60 rear solid axle, multiple tuning options, sway bar, EXO suspension arms, anti squat adjustments built into four link mounts at chassis, lower links designed to hold optional dual shocks
Front Bumper: New KOH style with light mounts, and compression mount
Wheels: Officially licensed Walker Evans 3-piece beadlock design, black in color, adjustable breather holes, compatible with most
BF Goodrich Crawler T/A KX tyres
Body: Moulded lexan, one-piece with separate roof, scale accessories spare tire mount, scale interior with driver and passenger helmet rear cage captures upper shock mounting points and includes integrated scale fuel cell
Battery Tray: Fully adjustable and easily accessible
Its good looks and mechanical design features drew their inspiration from the very best full-size desert trucks and various off-road vehicles. The Yeti mixes speed and handling unlike any other R/C vehicle. The Axial Yeti design supplies bashing endurance and delivers a high level of technical rock racing abilities with zero compromises in either category. Power comes from a 3150KV 4-pole brushless motor which delivers the perfect amount of torque and speed for this rock racing monster. The long can motor provides a massive amount of power, especially when powered by 3S. The Axial Yeti is fitted with an Independent Front Suspension [IFS] system to help maintain high-speed stability when running through or over a diverse range of terrain. The IFS system offers you better control over the direction of travel at high speeds when one side is adjusting to overcome rocks, boulders and big dips. This stability that the IFS front end offers is crucial when rock racing and a desire to be the best. Precision machined aluminium shock absorbers which are often optional on vehicles like this, are standard equipment and deliver silky smooth suspension travel for consistent handling.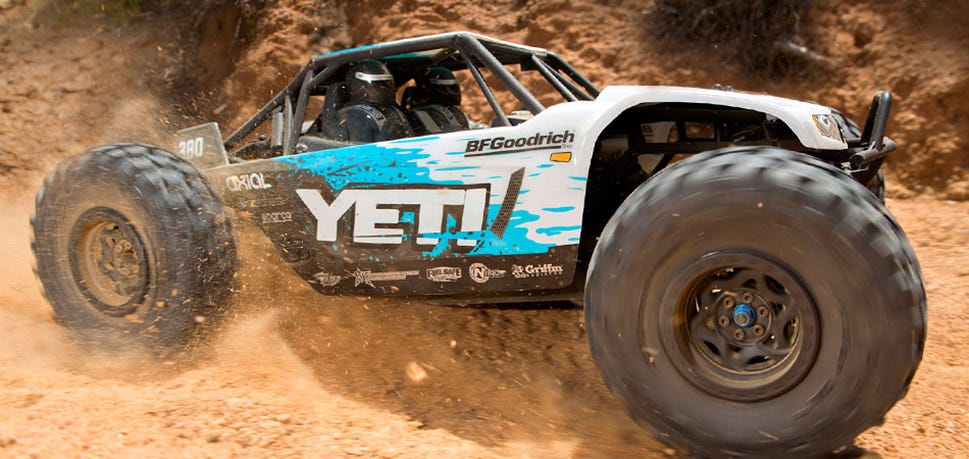 The Axial Yeti can be as serious as you want it to be, but with a true fun element that make it a hoot to drive. With the Axial Yeti, you and dirt just became best friends!
2S or 3S LiPo pack with Dean's connector
Suitable Charger
AA Batteries: Four for transmitter
LiPo charge bag, maintenance and track equipment
Type

Rock Racer

Scale

1/10

Length

19.5 in (495mm)

Width

12.3 in (312mm)

Height

7.7 in (195mm)

Ground Clearance

2.0 in (50mm)

Wheelbase

14.2 in (360mm)

Weight

6.5 lb (2.9 kg)

Drivetrain

4WD

Motor or Engine

Brushless 3150KV 4-pole Electric Motor

Speed Control

Vanguard AE-3 ESC, 3S LiPo, 8 NiCELL, Forward / Reverse, Waterproof

Radio

AX-3 2.4GHz transmitter

Servos

Tactic TSX45, 151 oz-in

Gear Pitch

32-pitch

Wheel Size

2.2

Kit/RTR

RTR

Shock Type

Aluminum
Looking for spare parts or upgrades?