Axial Wraith Spawn Rock Racer, RTR, AX90045, AXID9045
Part high-speed basher and part technical RC Crawler – the Axial Wraith is a game-changing performer with superb attention to 1:1 scale looks that will appeal to a wide range of RC Truck aficionados.
Looking for spare parts or upgrades?
Full tube composite frame chassis
Superb attention paid to scale detail
Officially licensed Method IFD beadlock wheels on 2.2 Ripsaw tyres
Dual slipper clutch
WB8 HD driveshafts by Wildboar
Receiver box is fully waterproof
Off-centre pumpkin design Axial AR60 OCP-Axle™
Oil filled and tuned shocks
20T brushed motor
ESC is a waterproof AE-5
4-link suspension
3-channel receiver and an AX-3 2.4GHz radio
Metal gear water resistant tactic servo
Protective transmission cover
Axial Wraith Spawn Rock Racer
The Wraith™ Spawn 1/10th Scale Electric 4WD Rock Racer is a lot from column A and even more from column B. Built for the dual purpose of technical rock crawling, and, full speed trail bashing the Axial Wraith really does offer the best of both worlds. Built tough from high strength composite materials the Wraith has a full tube frame chassis that can handle low-speed rock crawling and cross country bush bashing in its stride. Customise the realistic driver figure included with the Wraith Spawn with three different helmet designs so you can chop and change the look depending on what kind of driving you had in mind. There are open skull-face, motocross and motorsport helmet versions to give you a few options. The body of the Spawn is also compatible with AX10, SCX10 and Wraith chassis.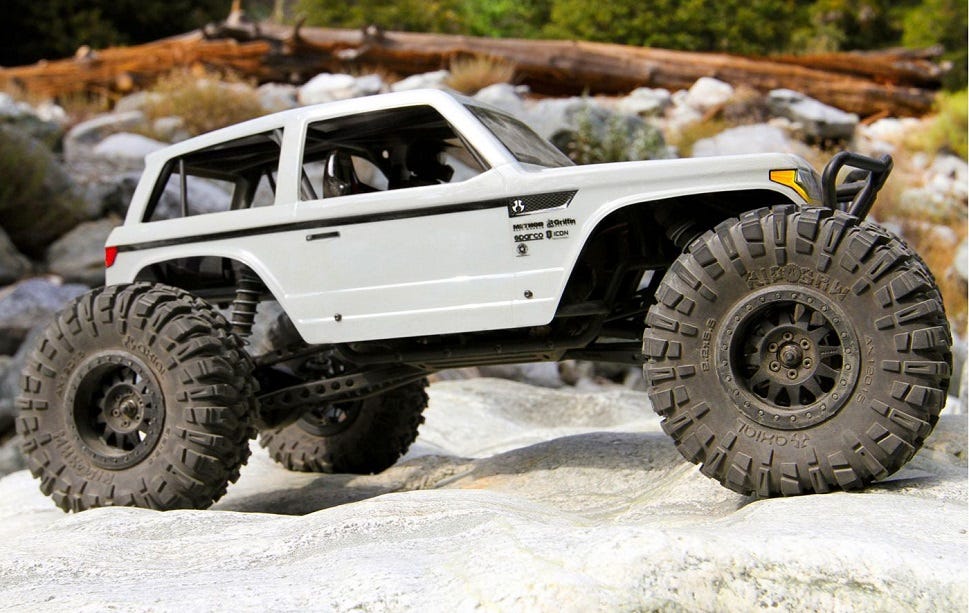 The performance features on the Wraith™ Spawn 1/10th Scale Electric 4WD Rock Racer are many and also mirror those of its full-scale counterpart. The fully licensed Method IFD Beadlock wheels are enclosed by 2.2 Ripsaw tyres which give you a superb combination of performance and grip on rocky trails or dusty tracks. The AR60 OCP axles on the Axial Wraith Spawn are virtually indestructible and when combined with the wheel/tyre/chassis set up allow this vehicle to be the multi-faceted and accomplished crawler/basher that it is.
2.2 Ripsaw Tyres™ with Method IFD™ Beadlock Wheels
The Wraith Spawn has a wheel hub design on the Method 12 spoke Beadlock wheels that are officially licensed and are easy to assemble in an all black aggressive style that can be fitted with most 2.2 tyres. This hub design also offers the RC truck enthusiast flexibility in that it allows the wheels to mount to any AX10 Ridgecrest, SCX10 or Wraith. The Axial 2.2 Ripsaw is not 'most' tyres. The Ripsaw features a tread design that is both aggressive and realistic in that it performs when it matters and the Interchangeable Face Design (IFD) wheel system means you can customise to get the look you want.
Axial AR60 OCP-Axle™ (Off-Centre Pumpkin Design)
The Wraith Spawn is fitted with the AR60 OCP-Axle which has been stripped down to ensure as much ground clearance as possible. An offset pumpkin also provides even more ground clearance and a better driveshaft angle. Improved traction is achieved with true 4-wheel drive locked differentials. With a low flex rate and made from high strength composite material the AR60 OCP-Axle is not as brittle as glass filled standard nylon options, and, the axle tubes are reinforced with a boxed-in axle truss so that a larger area can be used to distribute the load stress.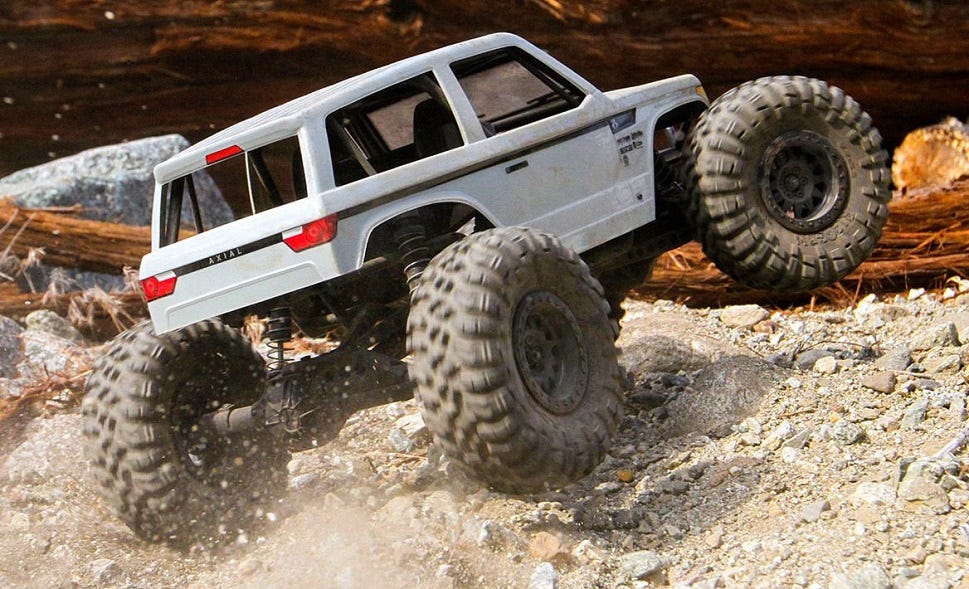 When you combine the true 4-link suspension with the AR60 OCP-Axle you get an RC truck capable of real all-terrain performance. Enhancing the 'all-terrain' credibility of the Wraith Spawn is the locked differential which not only requires less maintenance than silicone-based or oil-filled diffs but also provides the most positive wheel traction in challenging conditions and terrain. They can also be easily rebuilt or undergo performance tuning with the simple removal of four screws which will give you service access.
20T Motor
No fuel, no tuning and no loud exhaust – just plug in your battery and it's game on. The design of the Wraith Spawn RC truck also allows for 550 size motors to be retrofitted as well.
AE-5 ESC, Waterproof
Due to the dual compatibility of the Axial AE-5 ESC, you can interchange between LiPo and NiMH with the flick of a simple jumper switch.  
Jumper 1 gives you a plug and play choice between NiMh or LiPo
Jumper 2 adjusts the drag brake settings
Designed to be waterproof with standard plug/laser etched heat sink/On/Off switch all waterproof
7.2V NiMH 6-cell stick pack with standard connector, or 7.4V 2S LiPo pack
Suitable Charger
AA Batteries: Four for transmitter
Type

Rock Racer

Scale

1/10

Length

19.25 in (490mm)

Width

11.2 in (285mm)

Height

9.1 in (232mm)

Ground Clearance

2.8 in (72mm)

Wheelbase

14.0 in (355mm)

Weight

5.45 lb (2.47 kg)

Drivetrain

4WD

Motor or Engine

20T 550-size brushed motor

Speed Control

AE-5 ESC w/ drag brake - 3S LiPo capable (waterproof)

Radio

AX-3 2.4GHz transmitter

Servos

Tactic TSX45, 151 oz-in

Gear Pitch

32-pitch

Wheel Size

2.2

Kit/RTR

RTR
All product manuals are provided by the manufacturer, If you don't find the manual or information you are looking for, contact our experts for help.