Axial SCX10 III Jeep JLU Wrangler 1/10 Crawler Kit, AXI03007
Special Price
$499.99
Regular Price
$729.99
Using the latest SCX10™ chassis, Axial are offering a great new builders kit - the SCX10™ III Jeep® Wrangler. Looking to climb the local terrain, no problem. This Kit features DIG, two-speed options, as well as a Scale, Clear body to add some of your own custom flairs.
Looking for spare parts or upgrades?
Replica V8 engine, transmission housing and transfer case cover and protect the motor while improving scale appearance
Chassis tray accepts full-size, standard LiPo or NiMH batteries, with space on the side rails for running small pack sizes
DIG function transmission setup lets you lock the rear axle from the transmitter for front-wheel drive and a tighter turning radius
Two-speed transmission setup option also available for high and low speeds
Portal axles increase ground clearance and reduce torque twist
Adjustable wheelbase chassis allows each driver to choose the size of their chassis
Inner fenders and floor sides hide internal components usually visible from the side of the chassis
Licensed KMC Machete 3-piece beadlock wheels provide scale looks and let you remove and replace tyres without gluing
Officially licensed Nitto Trail Grappler tires in a new taller and wider size increase ground clearance and grip
Fully rebuildable, oil-filled shocks include hard anodized, threaded shock bodies, coilover springs, and an emulsion-style cap with a screw for easier rebuilds
Clear scale Jeep® Wrangler Unlimited body with detailed interior
Jeep JL Wrangler replica
The 1/10 scale Axial® SCX10™ III Jeep® JL Wrangler 4WD kit is a feature-rich Builder's Kit that harnesses everything you could want in a scale off-road beast. The improvement seen in the SCX10™ family is further highlighted with this SCX10™ III, including chassis realism like the tough-looking replica V8 engine covering the actual 540-performance electric motor. The electric motor is front-mounted, and just like its full-size partner has a realistic transmission housing and transfer case.
The kit's versatile transmission can be built in several ways. If you're using a 3-channel radio like the Spektrum™ DX3™, you can set it up with a third-channel DIG function that lets you lock the rear axle from the transmitter for front wheel drive and a tighter turning radius. Another 3-channel option is to set up the vehicle with a two-speed transmission to select between high and low speeds. To have access to the two-speed transmission and DIG function simultaneously, just add another servo and use a radio with at least four channels (such as the 5-channel Spektrum™ DX5).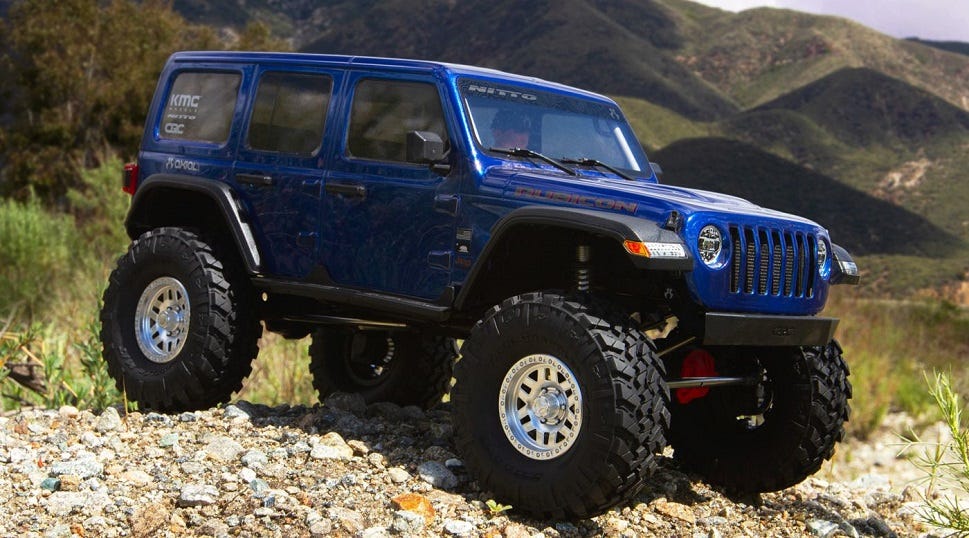 The SCX10™ III Jeep® JL Wrangler kit uses portal axles to improve performance by increasing the ground clearance and reducing torque twist. Its standard battery tray accepts full-size standard LiPo or NiMH packs. There's also space on the side rails for drivers who prefer "shorty" packs.
The Axial SCX10™ III Jeep® JL Wrangler kit body's inner fenders and floor sides hide internal components that would usually be visible from the side of the chassis. The sealed receiver box can be removed to give you more space for the electronics of your choice. An extra tree of body posts is included, allowing you to customize your rig with any 12.3" wheel-based bodies. CMS (Chassis Mounted Servo) has become a standard in scale RC and the SCX10™ III is designed with that standard in mind. The servo is mounted in the chassis, just as a full-size Jeep has its steering box located on the frame.
To top off the chassis, the kit comes with a clear Jeep® Wrangler Unlimited four-door body that's ready for finishing however you like. Scale details include a roll cage, front hood vents and cowl, windshield wipers, mirrors, door handles and more, plus a detailed interior. New taller and wider, officially licensed Nitto Trail Grappler tyres on 3-piece licensed KMC Machete beadlock wheels add more scale realism and more grip on dirt, rocks, and all other off-road trails.
4-Channel transmitter
4-Channel receiver
Steering servo
ESC (electronic speed controller)
Electric motor
Micro servo for rear dig feature
Micro servo for 2-speed feature
Battery (accepts standard and shorty packs)
Battery charger
AA batteries for transmitter
Paint (for polycarbonate plastic)
Type

"Scale" 4x4 Crawler

Completion Level

Kit

Scale

1/10

Length

19.125" (485mm)

Width

9.25" (234mm)

Height

9.5" (241mm)

Weight

6.5 lb (2.9kg)

Ground Clearance

3" (76.2mm)

Wheelbase

12.3" (312mm)

Track

8.9" (226mm)

Front Track

8.9" (226mm)

Rear Track

8.9" (226mm)

Chassis

Adjustable Steel C-channel

Suspension

Multi-Link Solid Axle

Shock Type

Oil-Filled/Coil-Over Spring

Drivetrain

4WD (locked front and rear)

Differential

Locked

Wheel Type

Injection Molded 3-piece beadlock

Wheel Diameter

1.9" (48.3mm)

Wheel Width

1" (25.5mm)

Tyre Compound

R30

Tyre Tread

Nitto Trail Grappler M/T

Tyre Diameter

4.7 in (119mm)

Motor Type

Brushed

Motor Size

540

Pinion

14T

Gear Pitch

32-Pitch

Final Drive Ratio

45.6:1

Speed Control Included

No

Servos Included

No

Body

Polycarbonate

Ball Bearings

Complete Vehicle

Experience Level

Intermediate

Recommended Environment

All-Terrain

Is Assembly Required

Yes

Approx. Assembly Time

7-9 Hours
All product manuals are provided by the manufacturer, If you don't find the manual or information you are looking for, contact our experts for help.