Axial SCX10 II 1955 Ford F-100 1/10 Crawler, RTR, Brown, No Longer Available
Special Price
$599.99
Regular Price
$729.99
The benchmark in performance and durability for off-road scale RC driving has long been the SCX10 II chassis. Axial have now topped this platform with a licensed scale classic – the 1955 Ford F-100 in all its 1/10th scale glory. Tackle the trails with this 4WD classic and the fun won't stop!
Looking for spare parts or upgrades?
Classic combination of battle proven Axial SCX10 II chassis mounted with an officially licensed 1955 Ford F-100 body
Clean and durable officially licensed METHOD Hole wheels
Moulded R30 compound tyres officially licensed from Maxxis Trepador that provide superb grip
Single piece moulded truss design on the AR44 front/rear axles provide lasting durability
Reduced torque twist associated with small pumpkin axle designs has been dramatically reduced with an optimized gear ratio of 3.75
Additional ground clearing high pinion design increases gear surface contact, and, improves driveshaft angles resulting in improved durability
Up to 45 degrees of steering achieved through universal joint axles that allow a smoother action which in turn makes the high performance drive-train more efficient
On board components are easily reached through hinged body system
Battery tray is adjustable in order to accommodate battery size up to 32 x 44 x 147mm (3S 5000mAh) and is also placed to improve centre of gravity and weight distribution
Adjustable suspension using realistic shock hoops with multiple shock mounting positions
High strength steel C-channel chassis frame with realistic design and cross braces for increased rigidity
Tune your dampening rate with coil-over oil filled shocks with threaded shock bodies
Bump steer nearly eliminated by front suspension design
Steel links on steering and suspension with large M4 rod ends for improved wear
Adjustable mounting system for scale looking chassis mounted servo
Variable speed settings from super high to competition level crawling speed through adjustable AX10 transmission gearing ratio and different pinion and spur gear choices
Increased surface area through dual slipper design which uses a pad on each side of the spur gear that allows more holding power and precise tuning
WB8 HD Wildboar 3piece front/rear driveshafts with reduced fatigue and flex achieved through the use of a strengthented sliderfloater tube
Easily accessible side plate location for waterproof receiver box that also improves the low centre of gravity
Easily switch on the go between LiPo and NiMh with the AW5L Dynamite ESC that is up to 3S LiPo capable
Reduced torque twist and axle steer achieved using an optimized 4link design built into the rear suspension geometry
S605 Servo, SRX200 Receiver and STX2 Transmitter – all by Spektrum
Rollbar/cage is attached to the cab and mounted to the bed for added protection
Axial officially licensed 1955 Ford F-100 replica
The first-ever scale Ford body in the Axial range is here! The officially licensed and superbly scale detailed 1955 Ford F-100 is the latest top body to be combined with the iconic SCX10 II 4x4 chassis. The list of authentic scale details on this body are headed up by the immediately recognisable Ford F-100 grille/radiator front with working LED front mounted driving lights. There are option mounting positions if you wish to add in different headlights or the turning indicator lights which can be purchased separately. The four-piece bed that the Axial engineers have created gives the F-100 more depth than the traditional one piece. Enhancing the scale appeal of this four-piece bed is the bead rolled aluminium sheet metal look of the bed panels. The rear fenders can also be removed if the truggy look is more your thing. You will need to purchase a charger and batteries separately.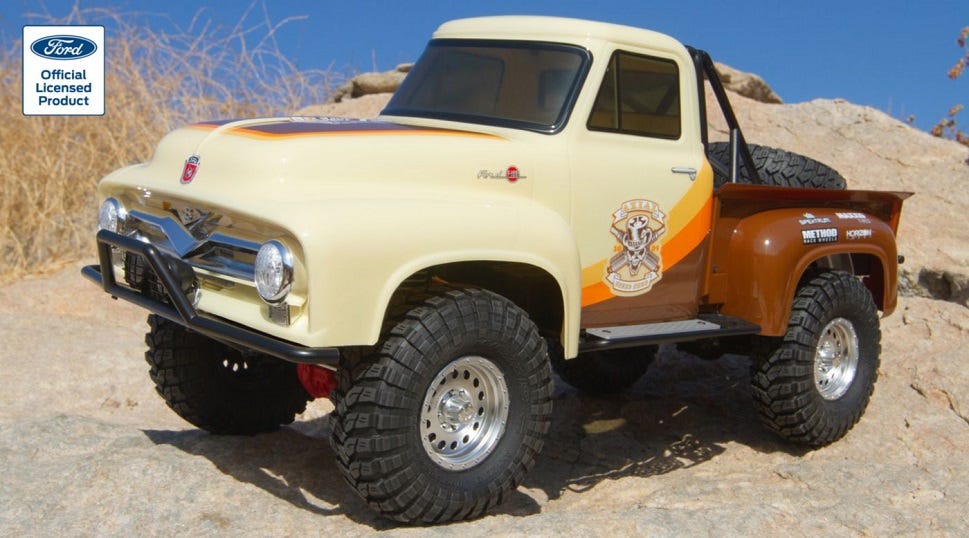 Take on tough terrain with this scale RC Crawler
The level of scale detail achieved is not limited to the Axial® SCX10™ II 1955 Ford F-100 4WD's body alone. Getting the wheels and tyres officially licensed means you have some serious connection to the ground to get you around. Featuring a strategically placed simulated beadlock ring placed under-cut on the wheel's out lip is one feature of the METHOD Hole wheels on this RC crawler. The METHOD Hole wheels are fitted with fully licensed Maxxis Trepador tyres that have an S30 moulded compound to give you extra grip when it counts. This METHOD/Maxxis combo not only look great and perform well but they are also taller than the 1.9 Axial Ripsaw tyres which give you better bump absorption, ground clearance and improved stability when you tackle your favourite runs.  
As durable as its full-scale counterpart the Axial® SCX10™ II 1955 Ford F-100 4WD has features that will keep it going in all conditions. Rain and mud are no deterrent with waterproof electronics keeping you operational when the going gets tough. Speaking of tough the twin C-channel all-metal frame rails, strengthened AR44 axles, full ball bearings, metal gear transmission plus more is another reason the Axial® SCX10™ II 1955 Ford F-100 4WD will continue to find a way to keep going when you are pushing it to the limit.
The additional cross-bracing on the tough C-channel chassis frame provides added rigidity and reinforcement and it's all fastened together with hex hardware. You can adjust your suspension to suit conditions with multiple shock mounting positions and realistic shock hoops to give the Axial® SCX10™ II 1955 Ford F-100 4WD maximised performance. Wheelbase adjustments can also be made with holes added to the rear of the frame rails. Maintenance on your F-100 is made simple with a well designed contoured skid plate also reducing hang-ups.
Stay in control with Spektrum
With the servo, receiver and transmitter on your Axial® SCX10™ II 1955 Ford F-100 4WD all supplied by Spektrum you know you're going to have locked in precision and control. The 2-channel Spektrum STX2 transmitter features throttle limiting and throttle/steering travel adjust and the 2.4GHz FHSS protocol gives you extended range and performance that is free from interference. With 161 oz/in of steering torque and a strengthened waterproof metal case the S605 Spektrum servo ensures your steering control is spot on every time. Conformal coated to provide extra protection from dust, water and other elements, the SRX200 Spektrum receiver also features a lengthened antenna lead for you to place your antenna where you think it will be most effective
Battery pack with EC3 connector
Battery charger
AA batteries (4) for the transmitter
Type

Scale 4x4 Crawler

Completion Level

Ready-to-Run

Scale

1/10

Length

19.25 in (489 mm)

Width

9.5 in (241 mm)

Height

9.6 in (245mm)

Weight

4.5 lb (2.04 kg)

Ground Clearance

3.0 in (77 mm)

Wheelbase

12.3 in (313 mm)

Track

9.1 in (230 mm)

Chassis

Stamped Steel C Channel

Suspension

Solid Axle, Front and Rear

Shock Type

Coil-over 2.5-3.5 in (61-90mm) Injection molded

Drivetrain

4WD

Differential

Bevel Gear 30T/8T

Wheel Type

Officially licensed 1.9 Method Hole Wheels (Satin Chrome)

Wheel Diameter

2.12 in (53.9 mm)

Wheel Width

1.02 in (26 mm)

Tyre Compound

S30

Tyre Tread

1.9 Maxxis Trepador

Tyre Diameter

4.6 in (116.8 mm)

Motor Type

Brushed

Motor Size

540

Pinion

13T

Spur Gear

56T

Gear Pitch

32P

Speed Control Included

Dynamite® AE-5L with Drag Brake

Radio

Spektrum™ STX2® 2.4GHz 2-Channel with SRX200 Receiver

Servo Included

Spektrum™ S605 Analog

Body

Polycarbonate

Ball Bearings

Throughout

Experience Level

Beginner

Recommended Environment

All-Terrain

Is Assembly Required

No
All product manuals are provided by the manufacturer, If you don't find the manual or information you are looking for, contact our experts for help.