Arrma Talion Truggy, 2019 Spec, 6S BLX, RTR, No Longer Available
The all new ARRMA® TALION™ 6S BLX 4WD is engineered and designed to get through the rough stuff at high speed. If shooting along at 112 kmh+ is your thing then this RC Truggy could be what you're looking for. With a full Spektrum receiver/transmitter package you can handle all that speed with precision while tackling any and all terrain.
Looking for spare parts or upgrades?
Extremely durable body and drive train along with anodized aluminium chassis
Aluminium centre brace and body support
Composite strengthened side chassis pods
Sliding motor mount making for easy access
Removable centre diff with only 5 bolts
Adjustable oil-filled shocks
Front and rear shock towers made from black anodized aluminium
Ball ends that never pop along with red aluminium servo saver
112kmh+ can be achieved in optimal conditions with 6S LiPo and optional pinion gear
All metal gearbox internals, diff outdrives and tough steel driveshafts
Rear wing provides multi-element high down force
MT wheels for low drag
KATAR tyres by DBoots for multi-terrain bashing
Hard wearing wheel hubs with hub nut O-rings
Full decals on painted aerodynamic body
Shock caps and protectors in aluminium
2050Kv BLX4074 brushless motor
Waterproof BLX185 ESC that is 4S/6S and EC5 compatible with an IC5 connector
Metal geared waterproof ADS-15M 51kg-cm servo (195 oz-in @ 6V)**
SRX200 Spektrum Receiver with 2.4GHz STX2 Radio Transmitter
** Please refer to the product instruction manuals for details on waterproof standards
Arrma's Tough Talion Truggy
When you pair the BLX4074 2050Kv brushless system with 6S LiPo power this TALION Speed Truggy is capable of hitting 112 km/h if you have the optional pinion gear installed. The waterproof electronics include a BLX185 ESC with IC5 connectors that can also take the standard EC5 connector as well.
To tackle the rough terrain it is designed for the TALION™ 6S BLX 4WD is equipped with multi-surface KATAR tyres by DBoots fitted to low drag MT wheels featuring tough wearing hubs. Give the speeds you can achieve in this RC Truggy there is a high downforce wing that can handle multiple elements and gives you that extra level of responsive control and handling.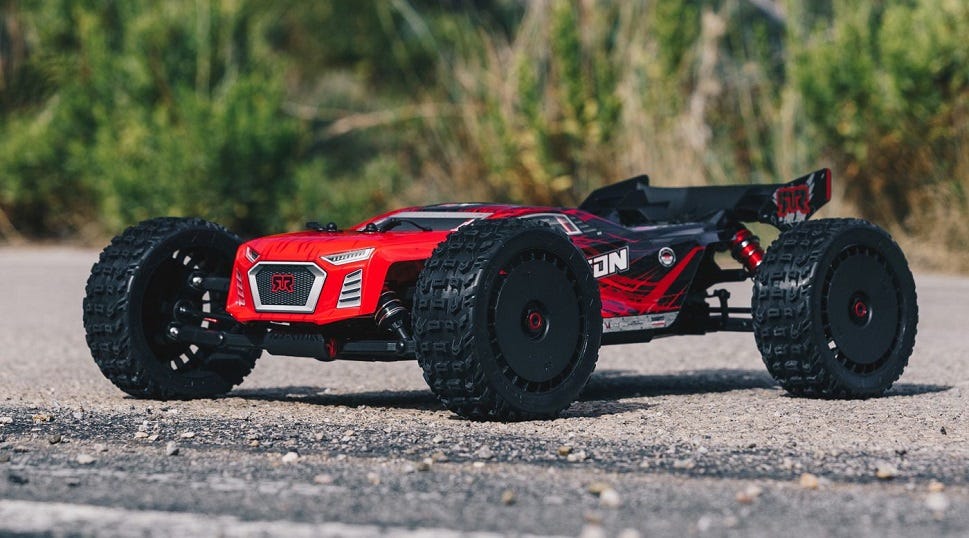 The shock system set up features oil-filled 16mm big bore shocks that are adjustable to customise the ride on your TALION™ 6S BLX 4WD. Mounted on black anodized low aluminium shock towers they complement the low profile of this speedy truggy and also include aluminium shock caps and protectors that provide ultra smooth damping to enhance your handling. 
Given the TALION™ 6S BLX 4WD was designed with high-speed 4WD bashing in mind it is no surprise to find that the chassis on this bad boy is made from tough 3mm anodized aluminium. The weight distribution of the chassis components is also engineered to help gain maximum speed. A new aluminium centre brace and centre support work in unison with the durable composite side pods to provide overall toughness to the chassis body. The heavy duty, efficient drive train on the TALION™ 6S BLX 4WD is made up of rugged steel driveshafts, all metal gearbox internals, and, diff outdrives. A new feature that will give you more confidence and precision is the aluminium steering servo saver that will never come loose and the ball ends that will never pop.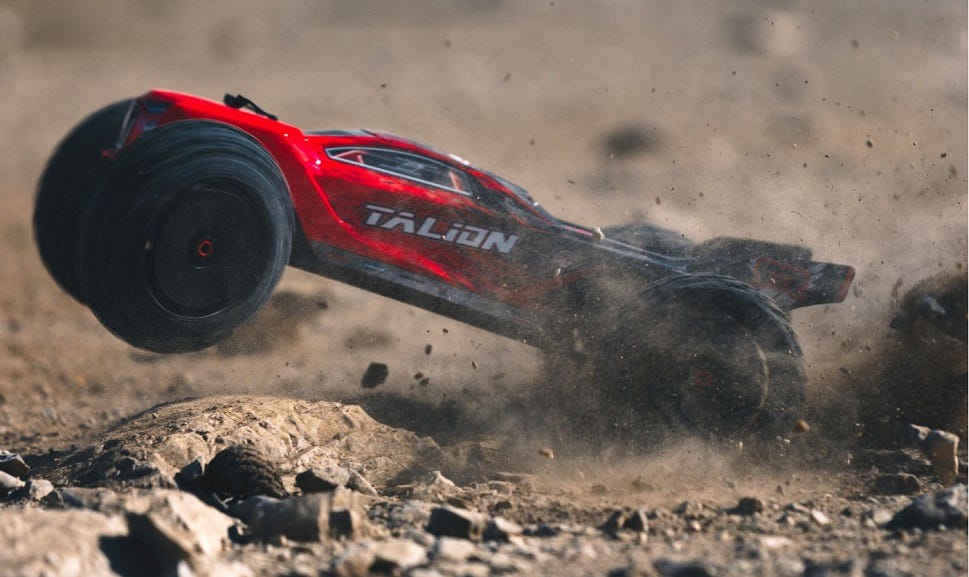 Sliding motor mount access is just one of the time-saving features ARRMA have installed on the TALION™ 6S BLX 4WD. Getting access to the diff was also a priority and they have made it easy to reach and remove with the simple removal of only five bolts. Improved aerodynamics on this low profile bashing speed beast helps keep you connected to the ground for maximum traction even when you have it pinned.
The transmitter and receiver on your TALION™ 6S BLX 4WD are provided by Spektrum with an SRX200 receiver connecting your speed truggy to its 2.4GHz STX2 radio transmitter. A factory installed waterproof ADS-15M servo relays your signals with precision every time. All you require to get going is a compatible charger, 4 x AA transmitter batteries, safe charging bag, and, a 4S or 6S LiPo battery. The DYN1540 by Dynamite is what ARRMA recommends and this Dynamite Powerstage Stage 6 bundle includes two Reaction HD 5000mAh 3S hard case LiPO batteries equipped with EC5 connectors, and, a Passport Ultra P2 AC/DC 100W Multi-Charger.
2 x 2S or 3S LiPo Battery OR 1 x 4S or 6S LiPo battery
Compatible charger
Four AA transmitter batteries
Type

Truggy

Scale

1/8

Length

21.7" (550mm)

Width

16.46" (418mm)

Height

7.09" (180mm)

Wheelbase

14.88" (378mm)

Weight

9.22 lb (4.19kg)

Chassis

0.12" (3mm) thick 6061-T6 aluminum

Suspension

Independent

Drivetrain

4WD Shaft Drive

Tire Type

dBoots KATAR, 5.71" (145mm) diameter

Motor or Engine

4074 Brushless, 2050Kv, sliding mount for easier maintenance

Speed Control

BLX185 150A w/cooling fan, 6.0V/3A continuous output, 12A max, IC5 battery connector

Radio

Spektrum STX2 2-channel with SRX200 Receiver

Servos

ADS-15M waterproof 15kg-cm metal-geared servo

Speed

70 mph+

Gear Pitch

1.0 Mod

Wheel Size

MT 4.2, 4.09" (104mm) diameter, 1.6" (41mm) width

Kit/RTR

RTR

Shock Type

Oil-filled, coil-over springs, filled with 1000cst silicone shock oil

Body

Trimmed and painted molded polycarbonate, new body mounts for better adjustability and durability

Ball Bearings

Full ball bearing drivetrain

Is Assembly Required

No
All product manuals are provided by the manufacturer, If you don't find the manual or information you are looking for, contact our experts for help.