Arrma Talion 6S Truggy, No Longer Available
Featuring a lowered and sleek body profile the ARRMA TALION 6S BLX is built for speed! How fast? 112 kmh is at your disposal with reduced drag combining with 2050kV brushless power to bring you this good looking speed demon! 
Rugged gearboxes in the front and rear have been strengthened specifically to improve durability
Low profile, high quality KATAR 6S tyres by dBoots
2.4GHz TTX300 radio transmitter
Quick and simple wire removal due to gold bullet connectors allowing for easier cleaning
Improved heat transferral away from finned body section provided by aluminium motor can
Secured pinion gear fit provided by dual motor shaft flat section
Electronics are protected by waterproof measures
Maintenance made simple on front/rear diff units due to easy access
Metal geared diff units included in the front, middle and rear
Ready to drive straight out of the box
Secure battery mount system
Reach speeds of up to 112+ km/h!
With a superb decal arrangement and a look that will turn heads the TALION 6S BLX is a super fast and stylish RC car. Built to handle a wide range of terrains the TALION 6S is equally comfortable on the blacktop or out bashing in the bush. With a sealed radio box, waterproof electronics and a 2050kV brushless motor you can drive just about anywhere in any conditions. Finding the right weight distribution to allow the TALION 6S to remain stable at 112kmh and also be a highly effective off-road charger is difficult but ARRMA has done it.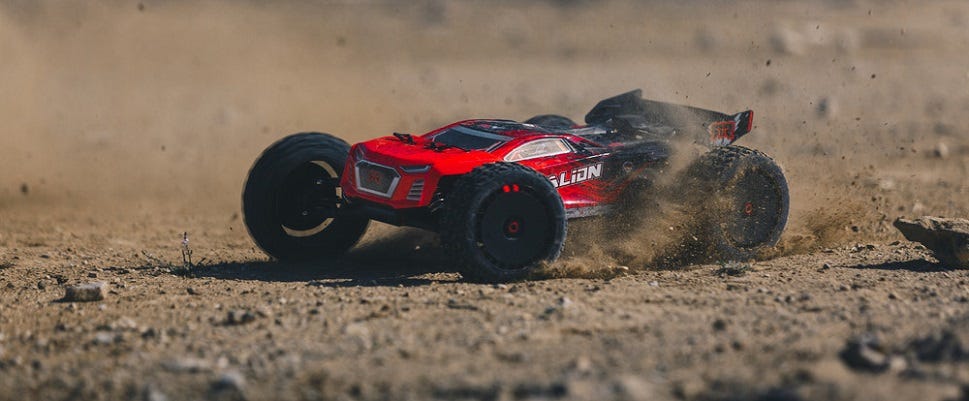 Take on any terrain
The adjustable, red anodized aluminium shocks are shorter and laid down to achieve improved aerodynamic performance by positioning the sleek TALION 6S body as low as possible. To improve stability even more ARRMA have put a newly designed and perfectly positioned rear wing onto this RC Truggy so if you do manage to get it up to 112 km/h (and who won't?) you'll find the speed easier to handle. Whether you're doing some low-speed bashing in the mud or snow, or, high speed runs, the TALION 6S BLX is equipped to handle whatever you can dish out.
Providing further speed handling stability are the low-profile KATAR 6S tyres from dBoots. Attached to large diameter aero wheels improves your ability to handle 112kmh on a number of different surfaces. Extreme forward traction is what the tread pattern on the KATAR's has been designed for which is a good thing given you'll be getting this RC car up to top speed as often as you can!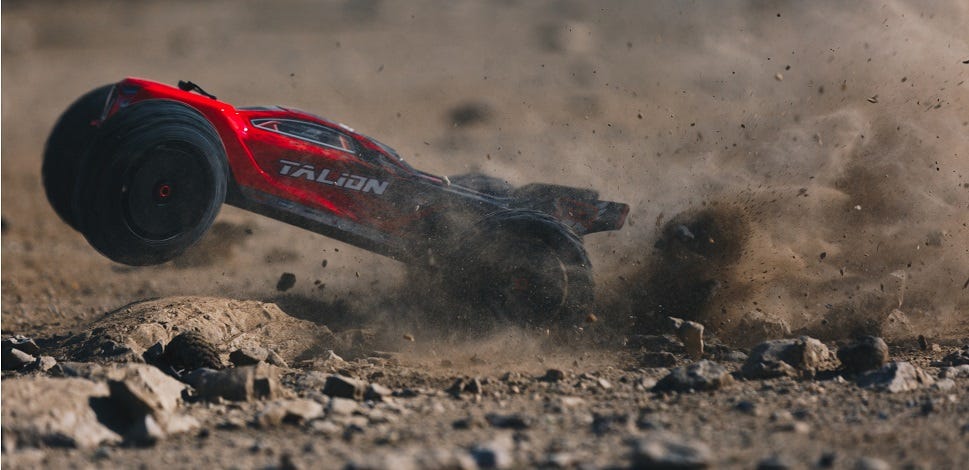 The BLX185 150A ESC comes with a number of pretty cool features. There is a two-stage LiPo cut off to improve cell management when charging. It also has over-voltage protection, XT90 connectors, and, a built-in cooling fan to reduce the heat involved with generating 112kmh! This ESC is also waterproof. The 6V BEC unit and the 10AWG fitted wiring pair up perfectly with the FWD/REVERSE/BRAKE throttle profile to give you immediate and responsive control. Balanced to work perfectly in conjunction with the BLX185 ESC is the power-packed BLX2050kV brushless motor.
The wheel and trigger style of the 2.4GHz TTX300 transmitter is perfect for people new to the hobby, or, seasoned veterans who can adjust the trims for their own perfect throttle and steering set up.
Ready to run out of the box
With pre-installed, high-quality electronics on board the fully built TALION 6S BLX just needs a LiPo battery and charger, and, a LiPo charging bag.
Included in the TALION 6S kit is a high-speed option pinion which enables you to increase the inbuilt potential of this ARRMA vehicle. All the information you need to keep getting faster is on ARRMA's dedicated Speed Card.
LiPo battery
4 x AA Batteries
Scale

1/8

Max Speed Possible

112+km/h

Power Type

Brushless

Completion Level

RTR

Build Configuration Options

Mid Motor

Drivetrain

4WD

Vehicle Type

Truggy

Recommended Environment

Off-Road

Length

550mm

Wheelbase

378mm

Ride Height

45mm

Front Width

418mm

Rear Width

415mm

Height

180mm

Locking Diffs

No

Number of Differentials

3

Weight (No Battery)

4kg

Battery Max. Dimensions

158 x 48 x 70mm

Radio System

Tactic TTX300

ESC

ARRMA BLX185 Waterproof

Motor

BLX 2050kV Brushless 4074

Servo

ADS-15M Waterproof
All product manuals are provided by the manufacturer, If you don't find the manual or information you are looking for, contact our experts for help.
Looking for spare parts or upgrades?