Arrma Senton 6S Short Course Truck, No Longer Available
When you take the AARMA SENTON 6S BLX Super Duty Short Course Truck out of the box it just looks like a hard unit. And by that, we mean tough, fast and built for the rough stuff. This 1/10th scale RC short course truck can hit 90km/h effortlessly and when combined with the superb handling and awesome looks you have yourself a truck to take on all comers. 
2.4GHz Tactic TTX300 radio system
Waterproof radio receiver box, steering servo and ESC
Can hit speeds of up to 96+ kmh
All terrain dBoots tyres
150A BLX185 waterproof ESC
2050kV BLX brushless motor
Increased strength and durability from the updated front and rear composite chassis braces
Bodyshell comes pre-painted and with an awesome decal livery
Adjustable red anodized shocks
4mm heavy duty steel shock shafts
Three differential units all metal-geared
Factory assembled
Every RC basher's dream
Some short course trucks are built tough – then there's the SENTON 6S. This 4WD RC truck can power through any environment and still keep coming back for more. The decals and pre-painted polycarbonate shell give the SENTON 6S a real badass look that will definitely turn heads when you leave people in your dust. The scale detail is obviously better appreciated going less than 96 km/h and if you take the time you'll see the decals, body trim and look all say that the SENTON 6S needs to be taken seriously. The aero slotted body shell and rear polycarbonate wing provides stability and downforce to this RC short course beast. Once you pin it you'll need all these extra control measures as the BLX 6S brushless power kicks into action.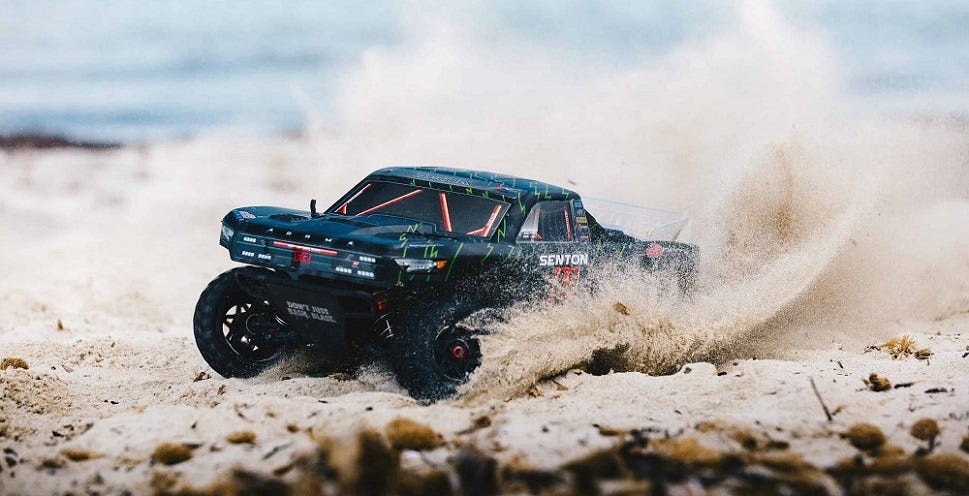 Impressive brushless power system
The BLX 6S brushless power system that ARRMA have equipped the SENTON 6S with gives you a massive top speed and unbridled power. To ensure you have consistent power control the SENTON has a 150A waterproof BLX185 ESC that is 6S LiPo ready and fitted out with XT90 connectors and a cooling fan to ensure you don't overheat when you're going flat out. The BLX185 ESC is also equipped with over-voltage protection and features a two-stage LiPo cut off for improved cell management. The 6V BEC unit fitted out with 10AWG wiring combine with a FORWARD/REVERSE/BRAKE throttle set-up to add more enjoyment to your drive.
No terrain is too difficult for the SENTON 6S
Park, track, creek or carpark – the SENTON 6S will eat them all for breakfast. With full metal gearing on the three differentials, an anodized aluminium 3mm chassis, steel drive shafts and super strong suspension, the SENTON 4WD short course truck is loaded to the hilt for any challenge you want to put it through. Keeping your SENTON gripped are the all-terrain dBoots tyres that can handle the speed but give you total control as well.
Scale

1/10

Max. Speed Possible

60+mph / 96+km/h

Power Type

Brushless

Build Status

RTR

Drive Type

4WD

Vehicle Type

Short Course

Surface

Off-road

Length

550mm / 21.65"

Wheelbase

328mm / 12.91"

Ride Height

27mm / 1.06"

Front Width

295mm / 11.61"

Rear Width

294mm / 11.57"

Height

195mm / 7.68"

Number of Differentials

3

Weight (No Battery)

3.8kg / 8lbs 6oz

Battery Max. Dimensions

158 x 48 x 70mm
All product manuals are provided by the manufacturer, If you don't find the manual or information you are looking for, contact our experts for help.
Looking for spare parts or upgrades?