Arrma Notorious 4wd Stunt Truck, 2019 Spec, 6S BLX RTR, Black, No Longer Available
No trick is too difficult for the Arrma Notorious 1/8 scale - long wheelies and front/back flips are performed with ease. The old school style shell coupled with tyre shredding 6S power and Arrma's staunch durability make the Notorious a crazy and exciting car to drive. Now comes with Spektrum STX2 Transmitter!
Looking for spare parts or upgrades?
Perform flips, wheelies and stunts
High-speed stability provided by a high downforce wing along with integrated wheelie bar
Black adonized aluminium chassis and shock towers
"Real Steel" body effect (patent pending)
Potential to hit 96kmh in optimal conditions and with an optional pinion gear
2050Kv BLX4074 brushless motor
Waterproof BLX185 ESC that is 4S/6S and EC5 compatible with an IC5 connector
Metal geared waterproof ADS-15M 51kg-cm servo (195 oz-in @ 6V)**
2-year limited warranty
SRX200 Spektrum Receiver with 2.4GHz STX2 Radio Transmitter
Extremely durable steel driveshafts and all metal gearbox internals and diff outdrives
Comes out of the box fully assembled
Silver painted body trim with internal body protection roll bar
Tough stunt truck wheels and multi-terrain DBoots Back-Flip tyres
150A, 6S LiPo ready (3S, 4S and 6S LiPo compatible)
Ball ends that never pop along with never-loose red aluminium servo saver
Centre body support and aluminium centre brace
Heavy-duty drivetrain
Easy-access sliding motor mount
5-Bolt centre diff removal
Adjustable oil-filled shocks
** For details on waterproof standards, please refer to the product instruction manuals
Arrma Notorious Stunt Truck
The Notorious 6S 4WD Stunt Truck is a trail bashing beast that is kitted out with a BLX4074 brushless motor that pumps out 2050Kv. With a potent mix of speed and agility, this RC truck is perfect for the intermediate driver looking for that step up and it is capable of taking 3, 4 or 6S LiPo batteries depending on how much shredding you think you can handle. The metal geared and waterproof ESC features IC5 connectors but can also be paired with standard EC5's as well. If you fit your Arrma Notorious out with the optional pinion gear you can potentially hit 96 km's an hour if conditions are right and you can hold your nerve.
The Notorious 4WD Stunt Truck is truly a vehicle for all conditions and terrains. Equipped with oil-filled adjustable shocks on black anodized aluminium towers this RC truck will comfortably handle rocks, grass, dirt and asphalt in pretty much any conditions. To get you up, over, through the obstacles and perform all your stunts and tricks, this electric RC basher is fitted with multi-surface DBoots Back-Flip tyres. The combination within the Notorious and the connection it has with any and all surfaces gives you a brilliant combination of speed and handling.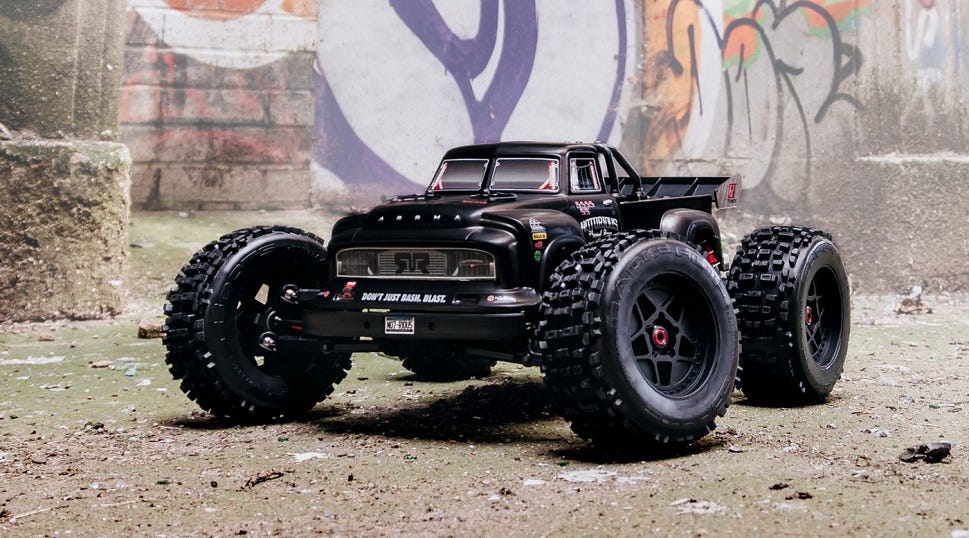 Definition of 4WD basher
To give the Notorious RC Truck the strength it needs to handle the punishment you will dish out it has a robust anodized aluminium chassis as well strengthened composite chassis side pods. A new aluminium centre brace and centre body support provide additional frame toughness. The drive train on this RC truck is super heavy duty consisting of all-metal gearbox internals and diff outdrives along with a steel driveshaft for improved reliability which you'll need if you push this RC monster truck to its limits. Given the bumps and shakes, the ARRMA Notorious also comes with ball ends that never pop, and, a red aluminium steering servo saver that is never loose so you can push your driving beyond your comfort with full confidence that your equipment can withstand the punishment.
From its heavy-duty front bumper through the short wheelbase chassis to the wheelie bar in back, the NOTORIOUS™ 6S BLX is engineered to make you a stunt superstar. Its stiff roll cage and underbody take all kinds of punishment and come back for more. The NOTORIOUS™ can do it all: long, tall wheelies, tight, fast donuts, standing and aerial backflips, high leaps into the air and more!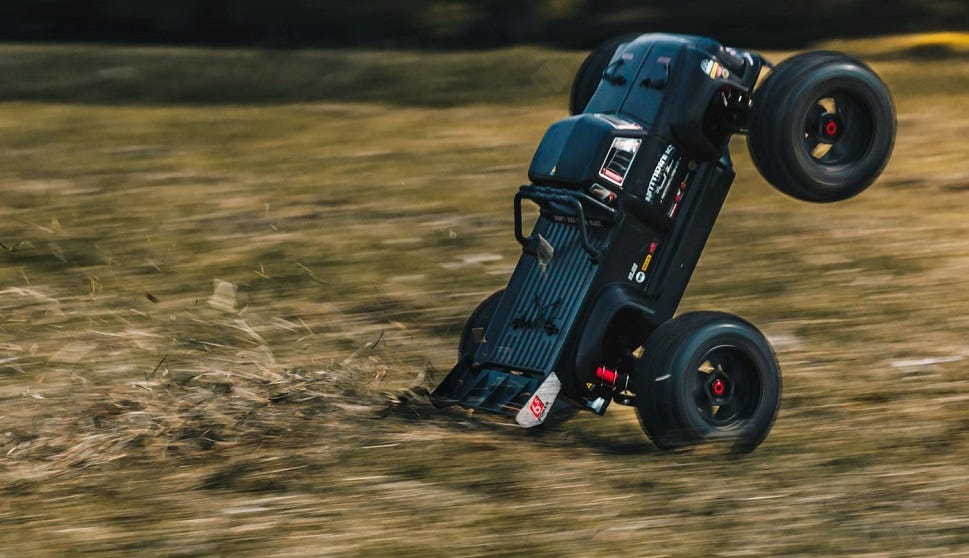 Minimised time spent on maintenance is a hallmark of ARRMA and to that end, the Notorious 6S Stunt Truck is equipped with a sliding motor mount giving you easy access to your brushless power system. With the removal of just 5 bolts you can access your centre diff for easier maintenance. Now that under the hood is covered ARRMA also ensures you are looking good as well with a choice of decals in either a blue or black livery.
The transmitter and receiver on your Arrma Notorious 6S Stunt Truck are provided by Spektrum with an SRX200 receiver connecting your RC truck to its 2.4GHz STX2 radio transmitter. A factory installed waterproof ADS-15M servo relays your signals with precision every time. All you require to get going is a compatible charger, 4 x AA transmitter batteries, safe charging bag, and, a 4S or 6S LiPo battery. The DYN1540 by Dynamite is what ARRMA recommends and this Dynamite Powerstage Stage 6 bundle includes two Reaction HD 5000mAh 3S hard case LiPO batteries equipped with EC5 connectors, and, a Passport Ultra P2 AC/DC 100W Multi-Charger.
(2) 2S or 3S 50C LiPo batteries with IC5/EC5 connector OR (1) 4S or 6S 50C LiPo battery and harness with IC5/EC5 connectors
Suitable LiPo balancing charger
(4) AA batteries (for transmitter)
LiPo charging bag or case (recommended)
Type

Stunt Truck

Scale

1/8

Length

21.26" (540mm)

Width

18.15" (461mm)

Height

9.06" (230mm)

Ground Clearance

1.85" (47mm)

Wheelbase

12.91" (328mm)

Weight

11.37lbs (5.17kg)

Chassis

0.12" (3mm) thick 6061-T6 aluminum

Suspension

Independent

Drivetrain

4WD Shaft Drive

Tire Type

dBoots BACKFLIP, 6.77" (172mm) diameter

Motor or Engine

4074 Brushless, 2050Kv, sliding mount for easier maintenance

Speed Control

BLX185 150A w/cooling fan, 6.0V/3A continuous output, 12A max, IC5 battery connector

Radio

Spektrum STX2 2-channel with SRX200 Receiver

Servos

ADS-15M waterproof 15kg-cm metal-geared servo

Speed

60 mph+

Gear Pitch

1.0 Module

Wheel Size

3.82" (97mm) diameter, 1.6" (41mm) width, 17mm Hex

Kit/RTR

RTR

Shock Type

Oil-filled, coil-over springs, filled with 1000cst silicone shock oil

Body

Trimmed and painted molded polycarbonate with new inner body support for better durability, Length: 18.5" (470mm)

Ball Bearings

Full ball bearing drivetrain

Experience Level

Intermediate

Recommended Environment

Outdoor

Is Assembly Required

No
All product manuals are provided by the manufacturer, If you don't find the manual or information you are looking for, contact our experts for help.