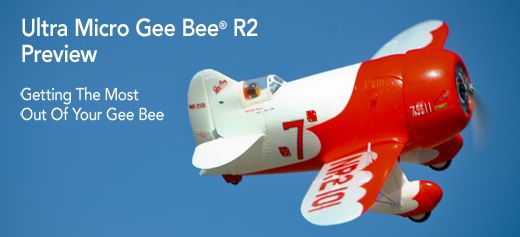 By John Redman, Horizon Hobby
Gee Bees competed in all the popular airplane races of the Golden Era of aviation. These highly engineered, teardrop-shaped, super planes required a skillful hand and perfect circumstances, but with the right pilot, they ruled the speed course. The UMX™ Gee Bee®R2 is yours to groove through the skies just about anywhere because it features specially tuned handling more in common with a Sunday sport model than a short-coupled engine with wings. The awe-inspiring UMX Gee Bee R2 replica offers handling so remarkably smooth, you'll want to fly this authentically scaled model every day. Its built-in, specially tuned, AS3X™ System invisibly helps you enjoy the kind of silky handling and outstanding control you always wanted from a conveniently-sized RC model, but never thought possible before now.
We met with David Payne in studio to discuss the new E-flite Gee Bee R-2. We discussed some of the history he learned visiting the Fantasy of Flight Museum in Florida when he researched this project. As most of us know, Gee Bees have never been great modeling projects due to their very short coupled bodies and small wings, but David explains how AS3X helps deliver a new form of flight with this jewel that has to be seen to be believed. David also gives us some tips on takeoffs and landings when flying your new Gee Bee, as well as some transmitter footage as he walks us through his step by step process for flying the Gee Bee.